After completing performances in Romania, the Divine Performing Arts traveled to Italy and presented its first show in Milan. The audience from "opera's hometown" cheered excitedly for all four singers in the show. They also especially liked "Spring Flowers," the first piece in the second half of the show, and offered generous applause.
It was 11:30 p.m. on April 15th when the first show concluded at the Allianz Teatro. Despite this late hour, most of the spectators did not leave right away, giving the performers a standing ovation one more time.
Audience enjoying the Divine Performing Arts show
Tenor from China: "The Divine Performing Arts Has the Most Purity, Compassion, Truthfulness and Beauty"
After the show ended, Mr. Song Lingqi, a tenor from China, came backstage and wanted to have his picture taken with Mr. Guan Guimin. During the show, as soon as the four singers' performances were done, his cheers were the loudest: "Brava!" "Molto brava!" "Bravissimo!"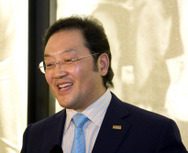 Tenor Mr. Song Lingqi cheered for the four singers: "Brava!" "Molto brava!" "Bravissimo!"
"The Divine Performing Arts purifies your heart. It has the most purity, compassion, truth and beauty, and it really touches your heart," said Mr. Song. "I have admired Mr. Guan since the early 70s. Later, I discovered Mr. Guan is a person who has his own way of thinking and character. He knows the difference between good and bad. This is very important."
Mr. Song said he thought that the dances by the Divine Performing Arts were better than any language. "Dance is a language, too. Our languages have limits. When something cannot be said with words, body movements can convey the message."
New Immigrant from China: "It's Very Truthful and Beautiful"
Ms. Yu came to Italy a year ago from China. She said that the show was excellent. "I think the performance showed Chinese culture. I liked all the dances, especially the one telling people to do good and not evil, which results either in reward or retribution, the one in which two young men fell asleep in the temple ("The Fruits of Goodness"). And the one with a little girl ("The Power of Awareness"), which talks about the persecution of Falun Gong. It is true. People dare not talk about it in China, but it's different here. I have been in Italy for a year and a half and I've heard a lot about it, which is all different from what we hear in China."
Ms. Yu said, "The Divine Performing Arts is very truthful and beautiful." When she saw everyone around her applauding excitedly, she asked a Westerner who sat next to her what he thought of the show, and he said, "Great! Excellent!" Ms. Yu hopes that her family members in China will have a chance to see the show some day.
Retired Banker in Milan: "Chinese Culture Belongs Not Only to China But Also to All of Mankind"
After the show, an older couple walked out beaming with pleasure. When reporters asked them how they felt about the show, Mrs. Eleana Angiuli said three times, "Moltissimo" (the best).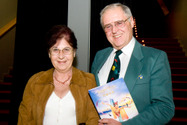 Retired banker Mr. Pierluigi Romerio and his wife, Mrs. Eleana Angiuli
Mrs. Eleana Angiuli was a journalist before she retired, and her husband, Mr. Pierluigi Romerio, is a retired banker. They are very interested in Chinese culture. Mrs. Angiuli said she especially liked the meanings behind the performances. "We could see another side of China. It's not only violence and evil. We understand the story behind it."
Mr. Romerio felt similarly, "I liked the philosophy behind the program. It's a new discovery for us. It's a new angle for us to see China."
Talking about Chinese culture, Mr. Romerio said, "The traditional Chinese culture has been destroyed. Fortunately the Divine Performing Arts is saving it. A few thousand years of Chinese history is forgotten but it really shouldn't be. Chinese culture belongs not only to the Chinese people, but is also a cultural treasure for all of mankind."
Manager of an International Company: "A Poetic Performance"
Ms. Nina Funk is a manager at an international company. She received a flyer about the Divine Performing Arts when she went to another show at the Scala Theatre, and she went on the Internet and reserved a ticket.
During intermission, Ms. Funk told reporters in fluent English, "I like the show very much. Especially the drums--so powerful and beautiful. Every dancer is excellent. It's a miracle. Those female dancers seemed to glide on wheels. It's wonderful."
When asked about her impression of traditional Chinese culture, she said, "It's wonderful. Compared to the overflow show I saw last week at La Scala on culture of the Mediterranean Sea, tonight's show is totally different. This is a poetic performance."
Franco is a company manager. He said, "This show offered complete enjoyment, especially the dances, which are unequaled. It's of high taste, a very elegant performance. I will tell all my friends to come to see the show."
Rossi, a retired fashion design teacher, said, "The show was very surprising. An outstanding performance, beautiful costumes, elegant music, excellent performers. It's simply wonderful. There are no words to describe the show. The costumes used are a dream for clothing-design professionals."
The second show in Milan took place on April 16 at the same theater. The Divine Performing Arts then travels to Munich, their last stop in Europe.
You are welcome to print and circulate all articles published on Clearharmony and their content, but please quote the source.