Divine Performing Arts performed the Chinese Spectacular at the Teatrul National Bucuresti on the night of April 8th, 2008. During the shows, audience members often broke into warm applause. After the curtain call many attendees did not want to leave immediately.
Lawyer: Show Displays Peace and Beauty
Luana Carmen is a professional lawyer. She liked the performance by the Divine Performing Arts very much, and thanked all of the performers for bringing such high quality programmes to the city.
Lawyer Luana Carmen
Ms. Carmen said she liked the dancing, and she thought the pictures of the backdrop were quite unique and full of imagination. Besides appreciating the professional choreography and dance movements, she also liked the drumming and said that she was very moved by it.
Moreover, she also liked the Erhu performance. Ms. Carmen said she had seen this instrument before, but this was her first time to hear its sound.
In regards to the entire show of the Divine Performing Arts, Ms. Carmen said she thought it was very Chinese. "It lets you feel the peace and beauty of a brand-new life," she said. The "Risen Lotus Flower" describes a Falun Gong practitioner killed in prison because she perseveres in her belief, and then rises to heaven. She mentioned that it made her feel that on this earth good and evil can't be distinguished, and that is truly like living in jail.
Ms. Carmen said she watched some eastern cultural programs before, but that this was the first time she saw such a wonderful program like the one of the Divine Performing Arts. The programs touched her a lot. Lastly, she again congratulated the Divine Performing Arts for this successful show.
Psychotherapist: "Will Certainly Come Again Next Year"
Psychologist and psychotherapist Mr. Nuschabuja watched the Chinese Spectacular in Brisbane. Nuschabuja said he learned many things from the show. As he and his son love Chinese martial arts, he really liked the dancing parts, especially the highly technical movements similar to martial arts in the dance.
Nuschabuja said he had a Chinese colleague, so he had an opportunity to know a little about Chinese culture, and he was glad to see an authentic Chinese artistic performance. He said he would certainly come next year.
Combining Eastern and Western Music Is Special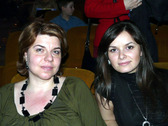 Marina Elena (left) and Enisa
Marina Elena and Enisa said they liked the show very much, they said that every program had its special place, and that all of it was very impressive. The most impressive and interesting to them was the music. They thought the music that combined eastern and western instruments was unique and very special.
You are welcome to print and circulate all articles published on Clearharmony and their content, but please quote the source.