The Divine Performing Arts presented the first show of the Chinese Spectacular in Romania at the Teatrul National Bucuresti, the magnificent national theatre, on the evening of April 7th, 2008. At the end of the performance, the audience lingered in their seats after the cast responded to three curtain calls.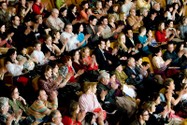 The audience at the Spectacular in Romania
Victor King is a music professor as well as a singer of opera and popular songs. He was apparently enthralled when the reporter approached him during intermission. As he said, "I teach music and I've seen tons of operas and ballets. I can say that this performance is gorgeous, and skill-wise, it's of the highest caliber. Frankly, I was flabbergasted with the incredible range of colors that appeared both on the costumes and the backdrop tonight."
He eagerly looked forward to the second half of the show, "I haven't seen such breathtaking costumes for a long time. The dances are stunning and the female dancers are beautiful and youthful. I love it. I think the theater will be even more packed tomorrow."
King said he learned through the Spectacular that ancient China is vastly different from modern China, adding, "I've never seen any show about Chinese culture prior to this one and I've never been to China. However, I oppose the torture and slaughter that is taking place in China right now."
His predictions came true, as the following night saw numerous Romanian artists and entertainers as well as an enthusiastic crowd in the theater. When the curtain fell on the final scene, tumultuous applause resonated throughout the theater, and the cast answered three curtain calls due to overwhelming response from the audience. Actress Oana Abu commended excitedly about the Spectacular, "A charming world, a mesmerizing culture! The performance is extremely professional and the dance moves are utterly precise. It's obvious the performers worked very hard for this show."
Reflecting from a more philosophical perspective that she gained from the lyrics, Ms. Abu said, "For me, the message is for us to examine our lives and our hearts and don't forget to endure."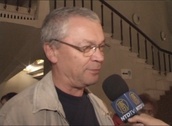 Actor George Pirou compared enjoying the Spectacular to enjoying fine tea
Actor George Pirou compared the Spectacular to savoring the fragrance of good Chinese tea, "These people come from a place far away to put on a show. Among us, I feel extraordinary warmth, a beauty and a wonder that is different from anything else in the world. The rich emotions expressed by the performers, the colors, dances and music all impressed me deeply."
"I really hope to see more from the Divine Performing Arts. I hope they will thrive forever and perform here on a more frequent basis."
You are welcome to print and circulate all articles published on Clearharmony and their content, but please quote the source.