Shen Yun Performing Arts performed before a sold-out house on April 14, opening day, at the Kulturpalast Dresden. The artists were enthusiastically praised by the audience with long applause throughout the performances, loud calls of "Bravo," three curtain calls and a standing ovation before the last curtain fell.
Andre Flaemig, owner and CEO of a German firm, and Cornelia Franke, former teacher and now an administrator at a German firm, had bought tickets to the New York-based Shen Yun company's show three months ago.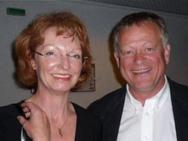 Andre Flaemig and friend Cornelia Franke at the Dresen Kulturpalast
They were looking forward to a show that promised traditional Chinese culture, with stories that were handed down through the centuries, as well as stories from modern-day China.
"I'm just amazed at what the artists brought to the stage. This is perfection of the highest calibre," Ms. Franke said.
Both were quite taken with the erhu, a two-stringed Chinese instrument, and Ms. Franke said, "It is amazing how much one can do with just two strings, unbelievable, fantastic!"
Ms. Franke was also touched by the dance Nothing Can Block the Divine Path, a modern-day story about the persecution of Falun Dafa practitioners in China.
"I was quite impressed with the harmony between the backdrop," referring to the state-of-the-art backdrop, "and the family that was torn apart in the scene Nothing Can Block the Divine Path."
'I received much more than I expected'
Rudi Jochen, owner of several companies, and his life partner, were also in the audience. Both are hobby dancers, which was one of the reasons they wanted to see Shen Yun, as it promised wonderful dance and music.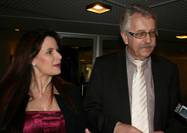 Business owner and CEO Jochen Rudi and his friend
"We will see it a second time! It was absolutely wonderful," said Mr. Jochen.
His partner added, "It gave us a glimpse of something we never had the opportunity to see before."
She was moved by the performances and said: "It takes only five minutes to acclimate oneself and immerse into that world. The show is of great beauty."
She added, "The mentality and the lifestyle of these Chinese people is portrayed in a really impressive art. One immerses into this world. It is amazing to learn about the different regions."
Mr. Jochen felt that the show has great inner content, saying, "It is not just the dazzling colors, but also the feelings the artists on stage emanate. It is totally different from what one is used to.
"The evening was very eventful and very impressive. I think I received something today, because it was in the form of a dance that can only be expressed by the Chinese culture. I had not expected that. I received much more than I expected," said an amazed Mr. Jochen.
His partner agreed and said, "It was amazing. Such a big world and the horizon became much larger."
'I will tell people about what I have seen'
Manja Lange, project manager at the advertising firm Werbeagentur WMA, was absolutely amazed by Shen Yun Performing Arts. Ms. Lange had heard about the show the year before, however she had already made other another commitment, so she made sure to buy a ticket this time around and after having seen the Shen Yun show, she said she will encourage everyone to see it.
"I couldn't wait for the day to arrive when I could go to see this show. And, there is no doubt in my mind that I will tell people about what I have seen and tell them that they should not miss this show," she said excitedly.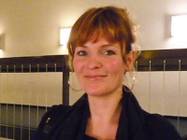 Ms. Lange was amazed by Shen Yun
"I was deeply impressed. There were so many different scenes and I must admit it was much more beautiful than I had expected," said Ms. Lange.
"The show is very impressive, including the backdrop pictures and the costumes and the dances. The artists must have trained a lot. One can see that there was a lot of effort to achieve this kind of show."
She was deeply touched by the scenes depicting the persecution of Falun Gong practitioners in China, Nothing Can Block the Divine Path and Astounding Conviction. They "are still haunting me. They were very dramatic."
"Overall, the choreography was outstanding. I don't know much about Chinese history, especially of a country that has a history of 5,000 years. Everything was well explained and the acts were very appropriate. Everything was so harmonious. I just can't imagine that they can show anything better in the future."
"The orchestra was very impressive. I never thought that something could sound so right, just perfect. It was fantastic, especially the Chinese instruments. I was amazed," she said.
"I found the Chinese music very rhythmic, very tender and very harmonious. I would call this high spirited music. It was very nice. I was impressed."
Coming back to the backdrop, "I was very impressed. Although I had read about it I couldn't imagine its effect. I really found that beautiful. It helped me concentrate on the dances. It just fit perfectly with everything. It also harmonized with everything, including the costumes. Everything fit perfectly."
Returning to the ongoing persecution in China she said that it, "is terrible. That is why I am glad that you are using this form to make people aware of it."
Doctor and Family Travel a Long Distance to See Shen Yun
Dr. Gabi Itting, a doctor with her own office and assignments in a large clinic, had been looking forward to seeing Shen Yun Performing Arts. She had traveled with her parents and husband from Weimar, located in the Free State of Thuringia (Thueringen in German), a distance of 250 kilometers (roughly 155 miles) to see the Shen Yun show.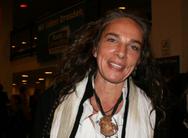 Gabi Itting, a doctor, had been looking forward to the show
"It was absolutely beautiful," said Dr. Itting, with a happy smile in her eyes.
She had been in China and was delighted that the New York-based Shen Yun travels the world to bring classical Chinese culture to everyone.
"I find it marvellous that the Chinese culture is brought to the world's people. This performance shows the fundamental ideology of China, as it is rooted in China," she said happily.
Summing up, she continued, "The dances were very impressive and in their artistic expression extremely precious. My impression has come from seeing the costumes, and the fundamentals of Chinese dance.
"I'm impressed with the artists' cooperation with each other and an inkling of how long they must have trained to achieve such precision and such a performance. From what I can see, it all comes from age-old traditions."
She shared that she dances during her free time. "I dance classical German dances," and therefore has a deep appreciation of the dancers' accomplishment.
She said with a little laugh that travelling the long distance to see the show was, "all worthwhile for us and for my parents."
Her parents agreed and said, "This was a truly beautiful birthday present. The colours were wonderful and the movements outstanding."
"I very much liked the design of the clothes, which were very attractive," said her husband.
He also admired the backdrop, which gave a unique Chinese character to all the scenes through Chinese landscapes. "The backdrop was absolutely great. Especially, the very first backdrop picture that showed the figures coming down from the heavens was marvellous."
Everyone agreed that they would tell their friends about this show, "Without a doubt will we tell our friends about the Shen Yun show."
Source:
http://www.theepochtimes.com/n2/content/view/33540/
http://www.theepochtimes.com/n2/content/view/33526/
http://www.theepochtimes.com/n2/content/view/33525/
You are welcome to print and circulate all articles published on Clearharmony and their content, but please quote the source.