BRNO, Czech Republic--Iveta Autratova, a wildlife artist and economist, said that taking the time to see Shen Yun with her family on April 19 was "definitely worth it". Ms. Autratova was drawn to a Shen Yun poster that held her interest, and said she was especially intrigued to see the show because there is limited exposure to Chinese culture in the Czech Republic. "We are interested in the traditions and people of China," she said.
Ms. Autratova's husband, an engineer who builds microscope sensors, was moved by the Shen Yun performance. He said, "I will tell my friends that they can find spiritual comfort and wider horizons. It was really nice and I would recommend it."
He especially liked two dances which incorporated elements of costume into the dance choreography, "Flowing Silk," and "In a Miao Village."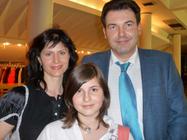 Iveta Autratova, a wildlife artist, with her husband and daughter
Stage Actress: "It took my breath away"
Stage actress Irena Zackova saw details in Shen Yun which pleased her professional eye, while the show touched her heart. Ms. Zackova said, "I danced before so I was hugely interested in the dances. I was amazed by the dances, in terms of choreography, in terms of excellent dance performance-the fitness they have, the flexibility." She felt that the costumes in and of themselves were enough to fulfil a theatregoer's wish for a magical evening.
"Fantasy, splendour! That's why I came here. I need it--the beautiful colours, the joy."
In addition to the costumes, the actress found charm in the bearing of the dancers and in the story-based dance. "I also very much liked how it has something cute, kittenish in it, with the funny scenes like with the tiger," she said, recalling "Wu Song Battles the Tiger," in which a drunken sage stumbles off to save a village from a man-eating tiger. The grace of the Chinese classical dance in this comic piece, along with the aerial manoeuvres of the dancers, bring the tiger hunt to life.
Ms. Zackova found the large ensemble of dancers and soloists in Shen Yun to have not only great technique but to carry a momentous feeling with the dance. "I admire the fantastic dance performance," she said, "It took my breath away. And that not only one of them can do it, but all can do it! It's brilliant."
Stage actress Irena Zackova

Sources:
http://www.theepochtimes.com/n2/content/view/33988/
http://www.theepochtimes.com/n2/content/view/33989/
You are welcome to print and circulate all articles published on Clearharmony and their content, but please quote the source.