LONDON—Honour Cann and her brothers Asa, Cain, and Ivan travelled from Nottingham on Friday night to see the Shen Yun Chinese Spectacular in London at the Royal Festival Hall.
"It was definitely worth the long journey here," said Asa, a high school student. "I thought it was really good."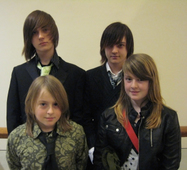 The Cann family from Nottingham
Asa said his favourite part of the show was the piece "with the banner about the Falun Gong child and her mum being separated from each other. It encouraged me to think…," describing the piece "Power of Awareness."
Asa commented on the show's portrayal of Chinese culture: "I like it, it's so ordered and perfect. I like the music and dancing, it was deeper than I thought."
"I thought the movements were really effective," said Honour about the show's dance sequences, "because they were all simultaneous, the outfits were really bright and attractive. The smoke machine and the water fairies and the special effects were all really good and beautiful. The music made a lovely and suitable atmosphere for each different piece."
"I loved the part where the boy's mother wrote the thing about loyalty on his back," she said about the piece "The Loyalty of Yue Fei," which depicts the legend of the ancient Chinese hero Yue Fei.
"I'm interested in Chinese culture, really interested because it's very different from my western culture," said Ivan, 17. "The morals and the deep down messages are what western culture often has missing."
He continued, "My favourite part was the drums, it was really entertaining."
Cain, an elementary school student, said his favourite part of the show included the martial arts sequences "because I like that sort of thing and it's exciting."
"I liked the water fairies because it was creative. I liked this show because it had a different dancing style to what I'm used to," he said.
You are welcome to print and circulate all articles published on Clearharmony and their content, but please quote the source.