The three companies of Shen Yun Performing Arts, the New York, International and Touring Companies, have graced the stage in multiple US cities in February with over 20 performances. They have performed in Evansville, Indiana; Birmingham, Alabama; Cleveland, Ohio; Detroit and Grand Rapids, Michigan; Minneapolis, Minnesota; St. Louis, Missouri; and New Orleans, Louisiana. The fourth Shen Yun company has been touring Asia.
Chinese historic myths and legends are brought to life by Shen Yun through Chinese classical dance and music. Audiences sense the energy and spirituality of the performances and recall their connections to ancient Chinese civilization and divinity.
"I Would Pay Almost Any Amount of Money to See Shen Yun"
Arthur Galbraith, a retired cancer research scientist formerly with the University of Minnesota, saw Shen Yun for the third time on February 15 at the Orpheum Theatre in Minneapolis. He said, "I would pay almost any amount of money to see it. If you come back, we will be in the front row again.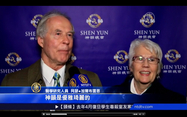 Mr. Arthur Galbraith, a retired research scientist, and Mrs. Galbraith
"It's so incredibly creative. It's done so beautifully, the music, the dance, the moves, the symmetry, the synchronicity of the movement is just unsurpassed. In a way, dance is a universal medium. So this is dance and music combined into a universal language. It doesn't get any better than that," Mr. Galbraith added.
The spiritual message in Shen Yun resonated deeply with Mr. Galbraith: "It has an incredible spiritual message, something that goes beyond just traditional religion. It's cosmic. It deals with the cosmic purpose of why we are all here, why we are down in the earth plane, what we go through. There's beauty everywhere. Ultimately we come back, we reincarnate, we learn and gain wisdom, then we return where we came from.
"Something like this elevates people's consciousness all over. You go to a production like this, it changes you in very subtle but profound ways. I think this production has a cosmic purpose in the grand scheme of things."
Distinguished Lawyer: Universal Spiritual Themes and Very Entertaining
Larry Canada, a distinguished lawyer, saw Shen Yun at the Saenger Theatre in New Orleans on February 18. He said that he respected Shen Yun Performing Arts for its mission to revive authentic Chinese culture. "I think it's honourable and admirable to bring back the culture; otherwise it would be lost."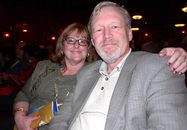 Cynthia and Larry Canada at Shen Yun Performing Arts at the Saenger Theatre, in New Orleans, on February 18, 2014
Mr. Canada is a director with a New Orleans law firm, an assistant bar examiner for the Louisiana Supreme Court. He said his sense of Chinese culture and of Chinese people is that they are "a calm people, and seeking after knowledge, and actually developing a lot of knowledge for everyone. So it's been a very beneficial society for thousands of years."
Mr. Canada has practised martial arts since he was a young boy, and has also done Tai Chi. "When I was in college, I especially liked Eastern folklore and dance. I have been in martial arts since I have been about four years old, so it kind of fits in together with me."
Speaking of the spiritual themes in Shen Yun, Mr. Canada found them universal. "Everyone has their story of creation." At the same time that Mr. and Mrs. Canada were touched by the deeper themes, they also found Shen Yun simply entertaining. "Oh, I love it," said Mr. Canada. "I enjoy all of them."
Journalist: Important Spirituality beyond Religion
Shen Yun Performing Arts delighted award-winning journalist Donna Francavilla at Birmingham's BJCC Concert Hall on February 1. "I think the show is wonderful in many different ways," Ms. Francavilla said. "One way I feel it important for people who don't live in China [is to] understand that there are Chinese people who value religion and culture, particularly about the peaceful meditation."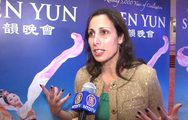 Ms. Donna Francavilla attends Shen Yun Performing Arts at Birmingham's BJCC Concert Hall, on February 1
Ms. Francavilla, who has spent the past decade working for CBS News as a national correspondent and field producer, also owns Frankly Speaking Communications where she provides training in communication. She has been a producer for Oprah Winfrey and worked for Agence France Presse.
Ms. Francavilla saw a universal, spiritual, theme in the Shen Yun stories. She said the show portrayed "the overall message of how we came to be, really not a religion but spirituality, and how we got to be here. It's important to tell, because we are so much alike, we may look different, we may have dark skin, light skin, blue eyes, brown eyes, black eyes, but we are all the same."
Ms. Francavilla was glad Shen Yun portrays the values underlying traditional Chinese civilization. She said she did not experience spirituality in contemporary China.
"When I was in China, there were no churches, there were no … we saw some people in the park doing Tai Chi, that was it. There was no sense of spirituality, and that did not feel normal or healthy. In fact, it even felt a little evil to me," said Ms. Francavilla.
"It's disturbing, because we all have the sense of God, we all have the sense of place, and a bigger purpose of ourselves, why we are here. When that is denied, it's not right, it's inhuman."
As a reporter and world traveller, Ms. Francavilla thought Shen Yun could open people's eyes to the way people lived in China.
"This show can actually open the eyes of many people in the South who have never been, as I have, overseas to Asia, and I think it's a wonderful effort," she said, recalling difficulties she encountered in China.
"I had difficulty reaching the CBS correspondents there to have a dialogue, because [the authorities] were directing how we spend our time and how we spend our money."
She also found the performance purely entertaining. "Well, I think the stories are charming, I have been a former dancer and I really enjoyed the dancing because I know how difficult that is … the show is full of energy, beautiful costumes and the dancers are fantastic and really entertaining," Ms. Francavilla said.
Healthcare Executive: Awe-Inspiring
Mrs. Barbara Rossman and her husband came to the February 9 performance of Shen Yun Performing Arts at the Detroit Opera House.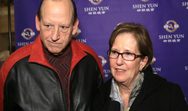 Mr. and Mrs. Rossmann enjoy Shen Yun Performing Arts at the Detroit Opera House, on February 9
Mrs. Rossman, the President and CEO of Henry Ford Macomb Hospital was impressed from the start with Shen Yun's performance. "This afternoon's show was beautiful. It really gave us a great impression of culture, the beauty and style, the precision [of the Chinese culture].
Mrs. Rossman was saddened by the fact that Shen Yun and its "spirituality and sense of history" cannot be seen in China today.
She said, "It was just awe-inspiring. We thoroughly enjoyed it!"
Mrs. Rossman appreciated the spirituality which is woven into the stories from ancient China. "We saw the spiritual effect there, very much so in terms of the value of creation, the reincarnations, the beliefs that were there."
She added, "There continues to be a drive toward bringing back what China was built upon, the foundations of the beliefs. It was just beautiful."
Mrs. Rossman closed by adding, "The whole thing was just beautiful, and very lustrous too. Just beautiful."
Retreat Founder: All Original and Beautiful
Shen Yun Performing Arts' portrayal of China's ancient culture and values resonated with Brenda Morgan on a deep level after she saw the performance at the Detroit Opera House on February 8.

Brenda Morgan enjoys Shen Yun Performing Arts at the Detroit Opera House, on February 8
"I'm stunned with the beauty of the combination of the dance, with new media in the background, with the costume designs, with the unique music—all of it—making a combination of something I haven't seen before," she said.
"It actually creates a mood, a feeling of what the experience is, which is unusual—what the moment is for the people, and has been even 5,000 years ago. It transcends time. It's very, very lovely."
Ms. Morgan has a doctorate in counselling and rehabilitation and runs retreats at Grass Lake Sanctuary in Ann Arbor, which she founded. During the past 15 years she has also served as a meditation teacher and mentor.
Ms. Morgan said there were times during the performance when she was moved to tears.
"At times I would tear up because [the performance showed that] life is more than what you see in front of you and the sharing of the sense that we are all one and that we have various journeys here, sometimes confusing, sometimes fine. It's touching and I hope it helps humanity to come together more as one. It's beautiful," she said.
"[Spirituality is] what my life's about, so it's wondrous, wondrous, and they were able to transmit it through the things that they were doing and the sets and the music. The music was highly touching and that's all original work from what I was seeing. It's beautiful." She added.
Non-profit Board Member: Wonderful Storytelling through Dance
"The choreography is phenomenal," said Kay Danby, who was once a part of the theatre and a dancer: "The dramatic is definitely there. They're telling a story through dance, which is often difficult to do because it's physical language, as opposed to spoken language, which is an interesting way to communicate, and I think they're doing a wonderful job of that."
Mrs. Danby attended the performance with her husband, Charles, who bought tickets as both a birthday and Valentine's present for her. The couple saw Shen Yun at the DeVos Performance Hall in Grand Rapids, Michigan, on February 12.
"It is a fantastic experience in a culture that I don't know that much about," said Mrs. Danby, who is a retired teacher and speech pathologist.
"It's fantastic! The colour, the movement, the expression of the culture—it's beautiful!" said Mr. Danby, who once owned a business that marketed products to the automotive industry and currently sits on the board of a non-profit organization.
"I am very proud of them," Mrs. Danby said. "I hope that they continue … that makes it even more precious, and I think, 'Good for them!' because it's very easy to give up in the face of things."
Mr. Danby likened the Shen Yun mission to preserving a species from extinction: "What hit me, and it just dawned on me watching the show, because the effort here is an attempt to revive a culture, and the loss of a culture is like the loss of a species and that really hit home with me. It's tragedy to lose a species just as it is a tragedy to lose a culture... Or a part of the art of the culture."
"It's a phenomenal program," Mrs. Danby added.
You are welcome to print and circulate all articles published on Clearharmony and their content, but please quote the source.