June 1st, 2013, marked the ninth year that Falun Gong practitioners participated in Oregon's annual Portland General Electric/SOLVE Starlight Parade. Approximately 100 floats joined in the event, processing along a 2.25 mile route, lined with over 250,000 spectators. In the early 1900s, the parade consisted of illuminated floats carefully built on electric trolley cars, which made their way through the city on trolley tracks.
The Falun Gong float, which resembled a massive "Fa boat," was beautifully decorated by practitioners in Washington State, then transported to Oregon. Colourful lotus flowers adorned the float which featured a tall, central sail on its deck and hand painted waves on its sides. Also visible were the words "Falun Dafa" and "Truth-Compassion-Forbearance," written in both English and Chinese.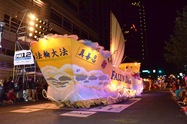 Practitioners' "Fa boat" shines in the Portland parade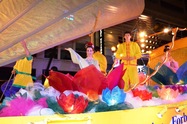 A scene atop the practitioners' float
Passerby and parade participants alike stopped by the practitioners' float to take photos. They expressed great admiration for the beautiful float, and one person sincerely asked, "When will the boat set sail?"
As darkness set in, drums and trumpets could be heard, signaling the start of the parade. Three heavenly fairies sat inside several large lotus flowers on the "Fa boat," waving to spectators, as melodious music played in the background.
When practitioners on the float demonstrated the Dafa exercises, many spectators followed along, intimating their hand movements. Some spectators shouted, "Beautiful!" Others called out "hello" in Chinese.
One photographer took a series of photos of the practitioners' float, saying that he was going to post them to his Facebook account. When practitioners greeted the spectators with their hands pressed in front of them, many people followed suit.
After the parade, people gathered around the float to take a group photo with the practitioners.
You are welcome to print and circulate all articles published on Clearharmony and their content, but please quote the source.