Shen Yun Performing Arts' hallmark display of classical Chinese dance was well received during six packed shows in London's West End Barbican Theatre, from March 5-9, 2013.
Shen Yun "Terrific," Says Bank Chief Operating Officer

Richard Wailes, bank Chief Operating Officer.
Many of London's top singers, songwriters, film directors, and other professionals attended Shen Yun, including, trade bank Chief Operating Officer Richard Wailes.
"I thought it was terrific, very, very good, very entertaining" Mr. Wailes said. "It was definitely worth coming."
Mr. Wailes described the performers' skills as "extremely wonderful technique," adding that he was most struck by the use of colours in Shen Yun.
He said that the performances had inspired him to learn more about China and Chinese culture.
Shen Yun "Absolutely Fascinating," Says Arts Enthusiast

Arts Enthusiast Fenner-Fownes.
Another enthusiastic audience member, Nigel Fenner-Fownes, felt fortunate to have obtained a ticket to Shen Yun's closing performance.
"I thought it was absolutely fascinating—I loved it. I loved the costumes, the colours, the routines—the variation actually was tremendous. And the scene settings … the colours and everything was wonderful, very, very nice."
Mr. Fenner-Fownes was impressed with Shen Yun's style of dance, particularly the elegance and grace of the female dancers in their exquisite flowing costumes.
"The beautiful ladies, they were gorgeous," he said. "How could you not say that they weren't? Gorgeous in terms of their interpretation, in terms of their movements, and everything to do with it. The costumes were stunning."
He said he would recommend the show to others. "I'd say 'Come and have a different evening, a very cultural one, and very enjoyable'."
Shen Yun Is "Full of Colour," Says Actor

Actor Michael Swatton. (Photo courtesy of The Epoch Times)
Also in the audience was film and theatre actor, Michael Swatton, who described the performance as really vibrant.
"It's full of colour, it's full of something which is different and I think it's good for opening the mind and opening the soul", he said.
"Just to see people dance and express their life, which is representing Chinese ancestry, is fascinating and enlightening to see," Mr. Swatton said.
He was impressed with China's rich history and ethnic diversity, in particular, the "Mongolian Bowl Dance."
"Just seeing the Tibetan dance last was quite amazing. With Mt. Everest in the background, it's fantastic."
A unique feature of Shen Yun is the state-of-the-art digital projection of images such as mountains, landscapes, and heavenly realms.
Mr. Swatton felt that traditional culture and its artistic expression should not be repressed in contemporary China. After seeing Shen Yun, he felt that he took away a key message of hope.
"I think freeing creativity in a country and a nature that has been oppressed for so long is a vital course to take," he said.
When asked if he would recommend Shen Yun to others, Mr. Swatton replied, "I would say, 'Guys get along there because it's enlightening. It gives you something which you haven't experienced before'"
Shen Yun Is My "Dream Come True," Says Actress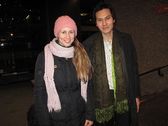 Actress and dancer, Ioulia.
Also attending the show was actress and dancer, Ioulia, who was particularly impressed by the standard of classical Chinese dance.
"I'm an actor and a dancer as well, so I enjoyed the dancing and how gracious the dancers were and professional, and the very high quality of their performance," she said.
"The beautiful girls with the sleeves were fantastic, fantastic," Ioulia said in reference to the piece "Ancient Elegance," adding, "They made my day."
"I was waiting for such a performance for a very long time. For ten years I've been dreaming to come and see something like this, so this is my dream come true, today."
"Ancient Elegance," depicts a group of fairies skillfully spinning with long silken sleeves, their attire an exquisite example of the flowing and colourful costumes in Shen Yun.
"I loved when the three of them were flying, the girls with the sleeves. They were like dancing leaves on the wind. That was beautiful," Ioulia concluded.
"Shen Yun Is So Moving," Says Dance School Principal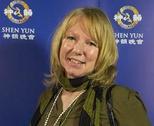 Choreographer Lesley Ann Eden.
Another happy audience member, Lesley Ann Eden, a dance school principal, described the dancing as "very, very beautiful" saying that it "has a wonderful spiritual message that is so moving."
"In the opening number where the movement flows so beautifully, it seems to be based on a circle, which is the eternal feeling of love," she said. "And I loved it—absolutely loved everything about it."
Being a professionally trained choreographer and dance school owner, Ms. Eden noted that the Shen Yun performers' movements are imbued with feeling and intention, thus they are able to communicate with the audience at a very deep level.
"This is a wonderful message for the people of today," she said, noting that the performance evoked a sense of peace, harmony, love, and tradition.
"I was very moved," she enthused. "The harmony of a dance is everything."
Ms. Eden said that the overall performance was harmonious on many levels, from the harmony of the music itself through to the overall themes. The blending of the choreography, the music, and the dancers' inner expression was fantastic, she said.
"The dance company presents a wonderful, harmonious blend of the past, of the present, and [of] looking to the future," she explained. "I've travelled the world, and I choreographed many, many pieces. I'm so happy and so pleased to witness this!"
Shen Yun "Will Change Your Life!" Says Founder of Black Women's Group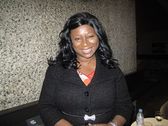 Sonia Brown, founder of Sistatalk.
Sonia Brown, an event management specialist and the founder of the national black women's group Sistatalk, thought that Shen Yun was a wonderful show and that everyone should go and see it. "It will change your life!" she exclaimed.
One of Shen Yun's goals is to revive the almost lost heritage of China's 5,000 years of divinely inspired civilization.
"It was everything it said it was going to be—5,000 years of civilization. It was a fantastic journey," Ms. Brown said.
She described the harmony of the colours, the choreography, and the costumes as, "just absolutely stunning."
"It was just a fantastic representation of Chinese history," Ms. Brown said, adding that the Chinese people and the performers should be proud of the production and the culture it portrayed.
Ms. Brown was honoured in 2010 for her services to Black and Minority Ethnic women.
"Sometimes we are just given a false impression, a snippet of other cultures," she said. "But tonight we got to see it in its entirety, and it was so beautiful in its elegance and simplicity. Everything was just stunning."
She concluded by saying that she is looking forward to seeing the show next year.

Graham Davies and daughter Charley. (Photo courtesy of The Epoch Times)
Graham Davies, the owner of a networking company in London, brought his teenage daughter Charley to the show. He thought she would enjoy it since she is studying costume design and dance in school.
He had been anticipating Shen Yun's arrival for two months. When he finally got the chance to see the performance, Mr. Davies wasn't disappointed.
"The story telling is amazing, really impressive," he said, adding that he also liked the combination of the show's different elements, such as the costumes, choreography, and the music.
"Put it all together, and it's a really stunning show," he said.
"There Is a Sense of a Light Being Shone," Says Filmmaker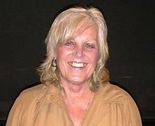 Filmmaker Catherine Bate.
Also in the audience was Catherine Bate, a documentary filmmaker, who said the whole evening was "inspiring," leaving one "feeling better about so many things."
"That's what I think it does. It appeals to a deep part of you," she said.
"It lets light shine in on a part of you—that's what I think happens. There's a sense of [the performers, the orchestra, and the audience] coming together, but there is also a sense of a light being shone," she explained.
She enjoyed the atmosphere in the audience, saying that "people were really, really enjoying it [the show]."
"I think it was so clever to mix the traditional with the new as well—like with the orchestra and the way some of the scenes were set in modern China as well as going back thousands of years," Ms. Bate said.
Shen Yun's state-of-the-art digital technology, which both projects the singers' words behind the stage and creates beautiful scenes of ancient landscapes and dancers ascending to heavenly realms, really appealed to Ms. Bate.
"The technical side was very good, the way in which the dancers would fly off into the clouds and the way you could read the words of the songs."
Shen Yun artists believe that it is the heart of the performer that the audience feels. They nurture the values and wisdom of traditional Chinese culture within their lives and this inspires their performance. Many of these values have been lost in recent times in China through campaigns like the Cultural Revolution.
Ms. Bate said that she had seen some Chinese dance in China, but it's different than Shen Yun; however, she could not fully express exactly how it differed.
"I can only say that here tonight there was something special in the auditorium. I think it came from the performers and the honesty and the truth that was coming from them. I think that [their] sincerity came across and the audience responded well."
As a filmmaker Ms. Bate is well placed to understand the components of performance art.
"Sometimes you get a sense of when a piece of art works it's bigger than words, bigger than the movements, and bigger than the individual people there. When that happens it appeals to something, to everybody in the room. There's a kind of unity that comes out of that, and that can happen in lots of different situations, and I think it happened tonight here at the Barbican in London."
"An Absolute Joy," Says Countess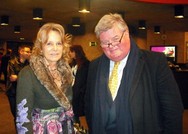 Countess Pillet-Will and Thomas Matthew, a professional consultant. (Photo courtesy of The Epoch Times)
Countess Pillet-Will and Thomas Matthew described Shen Yun as an uplifting and spiritual experience.
The Countess, who had previously worked with theater director Pierre Jourdan of the Théâtre Impérial de Compiègne, in France, said, "If he [Pierre Jourdan] had been here tonight he would have been absolutely thrilled by every detail of the show."
With an extensive background in theatre, fashion, and design, the Countess was deeply impressed by the performance's spiritual core.
"To see something with such a strong spiritual message was an absolute joy in this age of decadence," said the Countess.
Mr. Matthews, who works as a consultant in the communications and law industry, felt that Shen Yun was something very positive and "something which lifts the heart."
"It was most enjoyable, beautiful, excellent! The performers were second to none, the artists, the colors, were spectacular, and the mix between them and the film on the screen was the best I've ever seen," he enthused.
Sources:
Minghui.org
theEpochTimes.com
You are welcome to print and circulate all articles published on Clearharmony and their content, but please quote the source.