Curtain call in Florence at the Teatro del Maggio Musicale Fiorentino
Curtain call in Florence at the Teatro del Maggio Musicale Fiorentino
Shen Yun opened at the Teatro del Maggio Musicale Fiorentino on Tuesday evening, March 1, with a colourful and exhilarating performance of classical Chinese dance and music to a delighted audience. Shen Yun brought a taste of traditional Chinese culture to Florence, capital of the Italian region of Tuscany. Florence is known for its history, art, and architecture and is considered the birthplace of the Renaissance. The performance by Shen Yun was a presentation of traditional Chinese culture as it once was: a study in grace, wisdom, and the virtues distilled from the five millennia of Chinese civilization.
Italian dance teacher: Classical Chinese dance is 'perfection'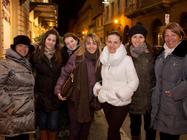 (L to R in center)Dance teachers Barbara Montigiani and Romoli Marzia, with their students, after attending Shen Yun Performing Arts in Florence.
Two dance teachers, Romoli Marzia and Barbara Montigiani, came to see the presentation with some of their students.
Ms. Marzia, dance teacher, yoga instructor, and martial Chinese arts instructor, said the performance was "super, from all points of view. Very gentle, the elegance, the energy, and especially the spiritual message coming through the arts, through the dance" held a " positive message of great harmony—harmony and hope." From the perspective of a professional dancer, she thought the classical Chinese dance was perfect. "It is the perfection of dance, because beyond balance, lightness and great strength, is a concentration to the arts. It's real perfection."
She noted that the male and female dancers were different, and both very beautiful. "The male dance is a very manly one, powerful, and the female dance has great characteristics in terms of quality and artistic level."
She said she would definitely recommend the show, especially to children. "I think it has a message very close to them, to their way of thinking, and I think it is a world that is a little bit different ... the colors, the costumes, the music, the poetry pervades the entire show. I think it is very suitable for children, young people—I think it is very, very suited to them."
Barbara Montigiani, a modern dance teacher, also enjoyed the show, above all, "the elegance of the dancers."
A show that fills the eyes and opens the heart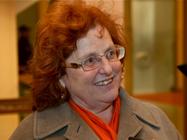 Elettra Lorini, former mayor of the town of Vicchio
Ms. Lorini said friends had recommended that she see Shen Yun, telling her, "Come. It is beautiful. The eyes will be happy, the heart will be opened," and she was delighted that she did. "Now that I have seen it, I consider it a show that does really fill the eyes and open the heart. The colours displayed are not what we would normally see … at a certain moment it was all a blur, but the colour came through in the natural movement," Ms. Lorini explained.
"It is fascinating. What struck me is this element of complexity that becomes linear and simple, which is not an easy thing, and at the same time the aspects of drama. But, I especially appreciated the linearity of the movement," she exclaimed. "For example, "Plum Blossom," the one with the fans. At certain moments it was just lightness, grace, and harmony."
"I had binoculars and I enjoyed taking a close look at the costumes," Ms. Lorini said, adding that they showed real refinement.
"That's why I brought the children, to integrate them with the beauty of China, their dance and their tradition" -Lisa Bittschwan
Lisa Bittschwan enjoyed the cultural aspect of the performance and was pleased to see the revival of traditional values.
"It's a lot of history ... That's why I brought the children, to integrate them with the beauty of China and their dance, their tradition, and their pride. The choreography is amazing: the timing, the beat, it's smooth and flowing, and it's like dancing flowers. And the costumes are fantastic, absolutely, the details are wonderful," Ms. Bittschwan exclaimed.
"I think in this show they want to renew the Chinese tradition, but general traditions can be the best means, in my opinion, to express values and things like that. Also, I think singing is a great way to do it," she said. "I think it's beautiful for each culture to keep its history and traditional stories. I am a big fan of anything classical and historical. I love seeing people being proud of their heritage, and that's why I wanted to bring the children tonight so they could get a feel for a different culture and different people."
"It's very interesting. Any history is very interesting, especially one dating back 5,000 years. It is incredibly interesting," she said. "This is the beginning of everything and it's still here. It's still here and needs to be seen more, more of what was beautiful. I think the importance of being here is to try to understand the culture and to see the culture and to see their pride and to respect it. To value who they are and what they are, and the colours and the fabrics and the light, it just sort of involves you, it's beautiful," she said.
Chinese audience: Yearning to see the Shen Yun show
Mr. Li, a professor on the Faculty of Medicine, the University of Florence; his wife; son; and daughter-in-law
Mr. Li, a professor on the Faculty of Medicine at the University of Florence, saw Shen Yun with his whole family. He thought that all Chinese people should see the show. "Shen Yun artists are outstanding. They present the essence of 5000 years of Chinese culture and history to the world."
Two sisters who have been in Italy for two years saw the Shen Yun show last year in Turin after driving all day from the south of Italy. This year they brought relatives and friends and drove 310 miles to Florence. The older sister said, "We saw Shen Yun last year and thought it was fabulous. For this show in Florence, we have yearned for it just like we waited for New Year's when we were children in China. From beginning to end, I felt a strong energy moving into my body, especially when those divine beings descended from heaven to earth and those fairy dancers moved their long sleeves. The feeling was so strong. For me, Shen Yun is a culture and a message from the divine. The feeling is becoming stronger."
The younger sister said, "I did not pay attention to traditional culture before because I had no idea what genuine traditional culture was. When I came to Italy, I had no confidence in our own culture. After watching Shen Yun, I see our Chinese culture moves foreigners. As a Chinese, I am proud."
Ms. Li from China is a teacher and came to Italy as a tourist. After hearing about the Shen Yun show in Florence, she bought a ticket. She said with appreciation, "I think it is great. I like it very much. Such programs with such deep meaning are not seen in China. I hope that one day Shen Yun can perform in China and that more Chinese people can see it. I also hope that Shen Yun will be performed all over the world so that more people can see the essence of traditional Chinese culture."
You are welcome to print and circulate all articles published on Clearharmony and their content, but please quote the source.