As part of its 2011 World Tour, Shen Yun Performing Arts' Company is scheduled to stage ten shows at the famous Lincoln Centre's David H. Koch Theater in New York, between January 6th-16th, 2011.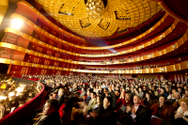 Shen Yun Performing Arts' premiere show at Lincoln Center's David H. Koch Theater in New York on January 6th, 2011
New York Philharmonic violinist's wife praises Shen Yun
Maria Mansfield, wife of veteran New York Philharmonic violinist, Newton Mansfield, was in attendance and was clearly awe-struck by what she saw.
"There is no way we can explain how perfect everything was for us, that is, the dancing, the background or these athletes, and they were so physically beautiful, with energy, and ... when you experience that, they make you feel that way," said Mrs. Mansfield.
"I can't talk, because I don't want to spoil that feeling," she said. "It's the most beautiful feeling. It's like you're in a dream. You don't want to wake up. That's the feeling, don't talk - it's phenomenal."
Mrs. Mansfield has spent many years of her life immersed in classical music. In addition to seeing her husband perform throughout his long career, she also acted as a tour-guide at the Lincoln Center for more than 40 years.
Mr. Mansfield holds the Edward and Priscilla Pilcher Chair and serves on the Orchestra Committee of the New York Philharmonic Orchestra (NYPO), the oldest symphony orchestra in the United States and one of the oldest in the world, founded in 1842. The NYPO has appeared regularly on the "Live from Lincoln Centre" musical performance series broadcast by PBS stations nationwide since 1976.
"That's what 'phenomenal' means to us! There's no way you can find a flaw, [or] a little something that could have been better," Mrs. Mansfield enthused.
"They took me in with their explanation and their feeling. I respect them ... I wish them well - the performers, the crew, their families, their country, their teacher, they dedicate their life to teaching what they do," she concluded.
"A very unusual experience"
Leonard Lakin, a veteran law educator and author, attended the show with his wife, Rita. The couple braved extremely harsh weather, travelling thousands of miles to see Shen Yun.
"It's a very unusual experience," the professor said, adding, "We enjoyed it very much. We hope Shen Yun will come back again next year."
He said that he and his wife would "recommend the show to everyone."
"The combination of the Western and Eastern music was very lovely - and the costumes as well. Also, the men were extremely energetic. The tumbles and the jumps were beautiful," exclaimed Rita.
She concluded by encouraging people who have not yet seen Shen Yun to "come see the show!"
Pastor sheds tears over profound beauty and spiritual depth of Shen Yun
Pastor Kem Monk traveled from New Jersey to Manhattan to see Shen Yun, saying that it was the most beautiful thing she'd ever seen.
"But beyond the beauty - and you can't go beyond the beauty because it was so magnificent - was the spirituality," she said of Shen Yun.
"I'm a pastor, and so spirit's very important to me. ... Truth, Compassion and Tolerance is from God, and is divine, and it was just wonderful," she said.
"And today I needed it. I had some bad news this morning, so this just made me cry and made me feel the gates of heaven were open. It was beautiful."
"They just got deeper and deeper and deeper until the tears started falling. I loved every single one, and I loved the way they came out of heaven and then appeared on the stage. It was so realistic. It was like they really were coming down from the clouds," she said.
"It doesn't matter the colour, the race, the gender, the nation. It is universal, and God loves us all. It doesn't matter who we are. It's open to everybody, throughout time. And I think if we would all believe that … we wouldn't be at war, and people in China would be able to worship and believe as they want."
If everyone believed it, she added, "We'd be able to live in the beauty of the backdrops - they were magnificent."
You are welcome to print and circulate all articles published on Clearharmony and their content, but please quote the source.