The New York-based Shen Yun Performing Arts completed its hugely successful European tour by staging three exhilarating shows at the Teatr Wielki/Great Theatre, in Lodz, Poland, on June 14-16, 2010.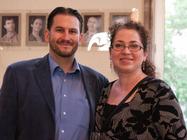 Marek Klimczak attended the performance with his wife.
Marek Klimczak, an economist and the director of a large company, attended the performance with his wife and a few good friends.
He described Shen Yun as an unforgettable show and marvelled at the "miraculous" ambience created by the dancers and the orchestra.
Mr. Klimczak explained that in Poland there were not many opportunities to learn about traditional Chinese culture.
He was obviously impressed with Shen Yun, saying, "Everything was amazing--the choreography, the scenography, and the orchestra. Everything needed for a good performance was there--unbelievable memories and an unforgettable impression!"
He especially enjoyed the dance sets that showed Falun Gong's peaceful opposition to the communist regime's persecution of their faith.
"I have to say, besides the historic scenes, the craft and physical excellence, for us Polish people, what really touches our hearts is the fight with the communist regime. It is exactly what these performances touched on. I personally felt it very deeply," he explained.
Mr. Klimczak said that he was already looking forward to seeing the show when it returns to Poland again next year.
"It left me with an amazing impression. Everything in this performance was magnificent. It was made by a very talented person."
He noted that there was a consistent high quality to each the performances and that there were "no weak moments" in the show.
"I'm not an expert in these matters, rather I feel more with my heart than my mind, and I feel that what they were doing is the highest craft," he said.
He described Shen Yun as being very emotionally charged, adding, "It's unbelievable. I was completely transferred to another world. I was captivated!"
Shen Yun Should be Seen Throughout the World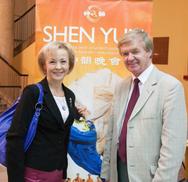 Ms. Jurkiewicz, a cosmetic artist, with her husband tenor Andrzej Jurkiewicz.
Also in the audience was Tenor singer Andrzej Jurkiewicz, who was accompanied by his wife, Ms. Jurkiewicz, a cosmetics designer.
After Mr. Jurkiewicz saw last year's show in Lodz, he knew that his wife had to attend this year's show.
Having had worked as a cosmetic artist at the Great Theatre as well as the opera theatre in Cracow, Ms. Jurkiewicz has a keen eye for detail.
She felt that the Shen Yun performance was based on "the naturalness of Chinese beauty" with no special make-up that she could see, except for "a few fabulous characters."
Ms. Jurkiewicz explained that she and her husband enjoy regular hikes in the mountains, and that the show was like a deep breath of fresh air, as if she was high in the mountains.
"There were moments, when I sighed deeply, I felt the freshness of the air, nature, and the beauty of the whole world," she said.
She shared her appreciation for all the performers in the show, exclaiming, "Everything throughout this beautiful show was very emotional for me. It touched my heart and soul very deeply. Through the whole beauty of the show, those values really spoke to me, and I think they leave a huge impression on whoever watches it, and also hears the beautiful singing."
Ms. Jurkiewicz continued, "Such a fairy tale that moves you into a different world, presents us with higher values--which I think it is very important for today's world. This winds up clashing with our everyday reality, which is sometimes drab and difficult."
She was referring to "the combination of the world of legends, with beautiful nature scenes and the collision with the grim reality (of today's China) which is hard at times."
Regarding the two dance sets portraying the persecution of Falun Gong practitioners in China, Ms. Jurkiewicz found them "very difficult and heartfelt" to watch.
She elaborated, "I can say that several times tears appeared in my eyes. I was really very moved. It is worthy to be seen throughout the world because the beauty of nature, the beauty of goodness, peace, it is what should exist in the world. However, in many places of the world, we are lacking them.
"The prohibition of a belief in higher values is lamentable. A man should have his heart and soul open, and you can't deny him something that's beyond this world. People should believe in compassion and goodness, and that's how they should be to each other. It's terrible that in China the values are destroyed and prohibited. I watched these two pieces with a heavy heart. We understand, we empathise, and we very, very much support the pursuit of freedom."
She said that Polish people can easily identify with how the Chinese people must be feeling under communist rule.
Ms. Jurkiewicz thought it was praiseworthy of Shen Yun to incorporate higher values into their show, not only for Polish people but also for everyone in the world.
She concluded, "The impressions of the values I got today is that it's important to believe, not only in what's here on earth, but also in whoever you may call a God, in His great compassion, in His goodness, and the care He has over people. And we are able to enjoy the beauty of the world that God created. Also there is something outside of this material world and compassion is most important."
Sources:
http://www.theepochtimes.com/n2/content/view/37447/
http://www.theepochtimes.com/n2/content/view/37472/
You are welcome to print and circulate all articles published on Clearharmony and their content, but please quote the source.