The New York-based Shen Yun Performing Arts Touring Company delighted audiences at the Teatr Wielki/Great Theatre, in Lodz, Poland, for three energy-charged shows on June 14-16, 2010.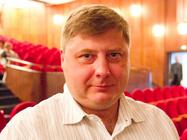 Robert Dybalski, the owner of the famous 'Dybalski' confectionery.
Accompanied by eight family members, Robert Dybalski, the owner of the famous "Dybalski" confectionery, the "Zielona Budka" ice creamery, and several restaurants in Lodz, attended the Shen Yun performance.
He said that Shen Yun "portrayed [Chinese culture] in a very different way than how most media around the world would do it, or like what I saw when I went to China."
Mr. Dybalski noted that the show highlighted the unique diversity of China's different regions and he was especially intrigued by the Tibetan Dance of Praise.
Bathed in the Beauty and Warmth Through Colour
Beata Uminska (L) with her friend Anna.
Beata Uminska, a professional theatrologist who also works in the advertising department of TVP, a local Lodz television station, attended the show with her friend, Anna.
"Beauty and warmness through colour ... there is the whole psychology of colour. I would say that it was very optimistic, very colourful--it turned us toward the light," explained Ms. Uminska.
Commenting on the three ethnic folk dances: Handkerchiefs, Mongolian Hospitality, and In a Miao Village, she said, "It was full of lightness and inspiration that you won't find anywhere else, and of course, the elements like handkerchiefs, plates, and jewellery, ... such small elements yet they make such a good impression and add something positive to the show."
Having gained an insight into ancient Chinese history through studying Chinese theatre, Ms. Uminska remarked, "What I saw on stage was modernized. There were a lot of contemporary elements in it, and it was produced from the perspective of the contemporary viewer ... it was mixed within a contemporary plot, in this form."
She appreciated being able to see the Chinese lyrics translated and projected onto the backdrops, making the show much "easier to digest."
She concluded, "We will tell our friends about it [Shen Yun], when we return home. We will tell them. We will also tell everyone at work."
"It Was So Colourful!"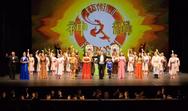 Curtain call at the second performance in the Great Theatre.
Agnieszka Kulik, an artist, attended the show with her son, Adam. Both of them enjoy theatre and have a keen interest in the arts.
Ms. Kulik said that she liked the show very much. "I think that it is very colourful and that we can see the elements of the culture."
She said that Adam and herself always wanted to visit China, but instead it had come to visit them in the form of Shen Yun.
Ms. Kulik excitedly commented on several elements of the show, saying, "It was so colourful! I really liked the woman playing the erhu. It was amazing. And especially the dancers, they were also amazing. I think that our [Polish] dancers cannot dance like that. I think that it is great."
She was very glad that her son had the opportunity to experience Chinese culture.
A Cross-Section of Life and of China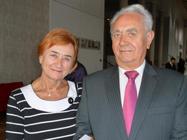 Zofia Panfil came to see Shen Yun with her husband, Jerzy, to celebrate her birthday.
Jerzy Panfil, a former engineer and technical and financial director of a local building company, took his wife, Zofia, a former engineer and project manager, to the Shen Yun show for her birthday.
Ms. Panfil was awe-struck by the show. "The costumes were so wonderful, the dance, the backdrop" with scenes of "mountains, or a village, or a lake, it was superb--it was really gorgeous."
Commenting on the music, she enthused, "The orchestra sounded very good and the soloists sang very beautifully. The lady played the erhu very beautifully. It was excellent."
The erhu is an ancient two-stringed instrument that has no frets and relies on the musician's skilled fingers to produce a wonderfully diverse array of sounds.
Mr. Panfil also enjoyed the show and the opportunity to learn about another culture. He particularly liked the costumes, colours and music.
"This performance is a cross-section of life, because it contained a bit about one's belief and a bit about oppression as well. However, it was also a cross-section of China--from the West to the East, from the South to the North, classical and folk dances, and traditional culture," he concluded.
Sources:
http://theepochtimes.com/n2/content/view/37536/
http://theepochtimes.com/n2/content/view/37537/
http://theepochtimes.com/n2/content/view/37533/
http://theepochtimes.com/n2/content/view/37533/
You are welcome to print and circulate all articles published on Clearharmony and their content, but please quote the source.