LOUVAIN-LA-NEUVE, Belgium--Audience members continue to thrill to the beauty of Shen Yun Performing Arts as it graces the stage at the Aula Magna Theatre, enthusiastically responding with standing ovations and two curtain calls during the May 2 matinee performance.
"The show is beautiful! A lot of colours. This dancing is charming, and I am delighted," said Jaroslaw Strejczek, First Secretary of the Permanent Mission of Poland to the EU. Mr. Strejczek and his wife decided to attend Shen Yun after seeing a brochure for the show.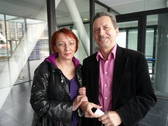 Diplomat Jaroslaw Strejczek and his wife at the Aula Magna.
"Everything was very nice. I will recommend the show in Lodz to my friends in Poland," he said, referring to the upcoming Shen Yun performances June 14 through 16 at the Teatr Wielki in Lodz, Poland.
"I Would Love to See It Again"
"It was very touching ... I would love to see it again," said Juliet Grainger, secretary at the International British School of Brussels. Shen Yun was a birthday present for her, which she very much enjoyed. "They were telling a story even if you didn't read the program. For every piece, you can see what story they were telling. I would definitely love to come see it again, and I would appreciate it even more," she said.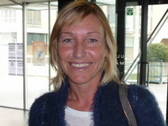 Juliet Grainger at the Aula Magna.
Ms. Grainger said that, after watching the show, she felt "Elated! A very happy feeling, very nice, very calm.
"They are very nice, very calm people, and that manifests in their performance. I have learned a lot from it.. Fantastic."
She expressed regret that her sisters were not there with her to enjoy the performance, but said she would tell them to come see it. "I still have (the performance) in my head now--it's fantastic, I'm enjoying it still," she said.
'Very Beautiful and Very Harmonious'
A marketing and communications manager in Brussels expressed her deep appreciation for Shen Yun Performing Arts presentation of ancient Chinese culture at the theatre on May 4.
"I found the show very beautiful and very harmonious," the manager said, giving her name only as Bernadette. "I was very impressed by the choreography, the number of artists there were, and the way they could dance really well all together. 'Bravo' for the choreography, 'bravo' for the costumes."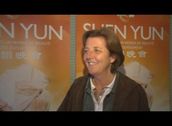 Bernadette at the Aula Magna Theatre.
"I really appreciated the backdrop, the décor, the history ... I found it very fresh, very good," she said.
Bernadette was impressed with the "harmony" emanating from the dancers and said the orchestral music was beyond compare. "I really loved the dance with the grand movements of the costumes ... it was very, very good. I was very happy."
She was particularly moved by two of the dances showing the suppression carried out by the Chinese regime in modern day China.
"In China, they don't respect the human right to have a show like this. It is important to respect human rights in the whole world," Bernadette emphasized. "I found it a good show, restful, and that felt good, peaceful. There it is, and bravo to all."
"More People Should See This"
Truske Verloop, an organizer for the TEFAF Maastricht Art and Antiques Fair, along with her friend Carol Bentink, who is also involved in TEFAF, came to the show on Tuesday evening, May 4.
"Totally awesome," Ms. Verloop said afterwards. "So delicate---I don't know whether that is the right word. All the colours, all the movement, all the thought behind it--it is too much to be able to comprehend in just one time, I think."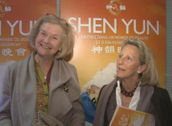 Truske Verloop, an organizer for the TEFAF Maastricht Art and Antiques Fair, and Carol Bentink.
Ms. Verloop said Shen Yun is "very special" and truly portrays authentic Chinese culture.
"There is so much expression that is being shown by movement and music." She said she noted the variety of movements in classical Chinese dance presented by Shen Yun and admired the dancers' skills.
"And the singing I also found really beautiful--good tenor, good soprano. Wonderful," she said.
The Shen Yun Touring Company Orchestra, which plays original scores accompanying all the dance performances, was "magnificent" as well, Ms. Verloop said. "That was really exceptional and a superb sound, indeed."
Ms. Bentink was deeply moved by the show and described it as entering "a totally different world. With lots of messages ... spirituality; you can feel an overtone of respect for each other, at least that is how I experienced it.
"There is something delightful radiating from it. Very beautiful, wonderful. Very different from what we know and see around us."
Ms. Bentink said she was really impressed by the delicately synchronized dance movements, saying that this aspect made a "huge impact" on her.
She added that watching Shen Yun made her feel like she has a lot to learn and read, and the show was truly "an eyeopener. It was so fascinating."
Ms. Verloop said she will be recommending the show to others and hoped that "as many people as possible" come to see the show.
"More people should see this," she said.
TEFAF Maastricht presents genuine masterpieces from 263 of the world's prestigious art and antiques dealers from 17 countries and is one of the world's leading fine art fairs.
Source:
http://www.theepochtimes.com/n2/content/view/34579/
http://www.theepochtimes.com/n2/content/view/34839/
http://www.theepochtimes.com/n2/content/view/34793/
You are welcome to print and circulate all articles published on Clearharmony and their content, but please quote the source.