LOUVAIN-LA-NEUVE, Belgium - "I think it's a celestial show!" exclaimed Belgian judge Christian Kubbens after watching Shen Yun Performing Arts Touring Company's opening show at the Aula Magna in Louvin-la-Neuve on Friday, April 30.
He went to see the show with his wife, Cécile, also a judge, and their daughter who is of Chinese ethnicity. "It's wonderful, beautiful colours, choreography, and it's very, very nice," he continued.

Mr. and Mrs. Kubbens and their daughter attend Shen Yun's premiere to Louvain-La-Neuve, Belgium
"I think it's very nice. Of course, China is now under a big dictatorship, and I think it's very nice to see a show from the Chinese culture with references to the beliefs and faiths."
Shen Yun Performing Arts, a New York-based company, aims to revive China's rich artistic traditions that thrived before decades of suppression by the current communist regime.
Mr. Kubbens appreciated this and said he particularly enjoyed the first dance where the curtain opens to a scene in a celestial kingdom.
"It was very nice; and also the scene with the mother and the daughter, and the way they were repressed, the repression forced upon them, it's very interesting," he said, referring to the piece Nothing Can Block the Divine Path where a mother and daughter are persecuted in present day China for practicing Falun Gong.
"I think also the way to present the beliefs and the divine beings ... is very nice," he said.
Mrs. Kubbens also marveled at the show and praised it for its beauty and rich content. "It's beautiful all around, and it's emotional, beautiful, and [incorporates] beautiful colors," said the judge.
"It's very, very beautiful."
The unique music played by the Shen Yun Touring Company Orchestra accompanying the dances was something to marvel at as well, she said. "The music is different and the dances are different. It's a different atmosphere than Western music," she said, adding that the costumes are beautiful.
Mrs. Kubbens said Shen Yun also shows the different traditions of China and also includes performances from different parts of the country, all of which are important for people to know.
Touched by the conviction
Also in attendance was Myriam Tamagni Dricot, a member of the Women's International Club.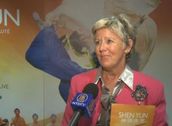 Myriam Tamagni Dricot at Aula Magna
"It's an absolutely impressive work. I find it admirable," Ms. Tamagni Dricot said.
"I think that the dancers are remarkable in their movement, in their expression, in their conviction."
Being a visual person, she said the colours particularly stood out for her, and the music was also "very pleasant to the ear."
Ms. Tamagni Dricot said she was deeply charmed by Shen Yun and was "very astonished by the fantastic appearance of these scenes, the excellence of the dancers and the singers."
She said she would recommend the show to others. "A good show! I will tell my friends about it for sure. I took the programme book which I will give to them."
Source:
http://theepochtimes.com/n2/content/view/34498/
You are welcome to print and circulate all articles published on Clearharmony and their content, but please quote the source.