On February 8th, 2009, Falun Gong practitioners in the San Francisco Bay Area were invited to take part in the annual Vietnamese New Year parade and present the beauty of Falun Dafa to San Jose residents. The enthusiastic audience gave practitioners warm rounds of applause and cheers.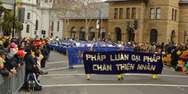 Falun Gong practitioners hold banners reading "Falun Dafa" and "Truthfulness-Compassion-Forbearance" in Vietnamese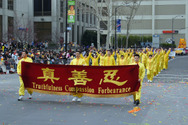 Practitioners demonstrate the Falun Gong exercises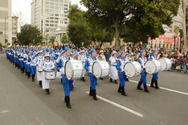 The Divine Land Marching Band captivates the audience
The parade proceeded through the main streets of San Jose. The Divine Land Marching Band composed of Falun Gong practitioners performed music including "Falun Dafa Is Good," "Fa Rectifies Heaven and Earth," and "Deliver the Treasures." Practitioners demonstrated exercises and were applauded warmly.
Ms. Hoa, who was watching the Vietnamese New Year parade for the first time, applauded nonstop as the Divine Land Marching Band passed by. She said that the band's performance was very good. The band members dressed in traditional clothing, which was unique. She said she was brought up in Vietnam and knew very well that people in Communist countries have no freedom.
The parade organiser, Terasa Hung, said, "The Divine Land Marching Band and Falun Gong exercise demonstration were very welcome. Falun Gong practitioners' performance was brilliant, and we are proud that we invited them to join the parade. We are honored that they participate in the parade every year. I hope that Falun Gong practitioners in China can have freedom. The freedom of belief and expression should be protected. The persecution in China should be ended."
Ms. Xiong, who plays the bass trumpet in the band, told the reporter, "We participated in the parade today in order to bring the local residents the beauty of Falun Dafa. The Divine Land Marching Band was formed by Falun Gong practitioners from all walks of life. We participate in every community parade to let more people understand Falun Dafa. Falun Dafa practitioners are still being persecuted by the Chinese Communist Party in China, and we hope more and more people understand the facts and help to stop the persecution.
You are welcome to print and circulate all articles published on Clearharmony and their content, but please quote the source.