On May 11th, 2008, Falun Gong practitioners in Washington D.C. celebrated the upcoming World Falun Dafa Day in front of the Lincoln Memorial, a symbol of freedom and human rights. Their beautiful music and peaceful energy field unfolded a unique scene. Many tourists took pictures of the activity.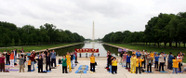 D.C. Falun Gong practitioners do exercises in group.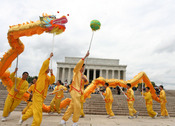 Dragon dance in celebration of World Falun Dafa Day.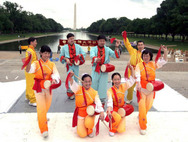 Waist drum troupe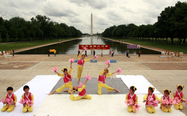 Dance "Planting Lotuses" by children from the Minghui School
As in the past years, Falun Gong practitioners in Washington celebrated the first public introduction of Falun Dafa by the founder Master Li Hongzhi on May 13th, 1992 and Master Li's birthday by doing exercises in a group and giving artistic performances. They also displayed dozens of photos showing the hard but glorious journey of Falun Dafa since 1992.
Talented Falun Gong practitioners performed dragon and lion dances and gave solo performances that showed the beauty of Falun Dafa and the spirit of Falun Gong practitioners. The child practitioners from the Minghui School were the most fascinating. They demonstrated the five sets of Falun Gong exercises, played Pipa and trumpet, and performed the dances, "Planting Lotuses" "Peace Drum" and "Celestial Children."
Cathy Kluth from North Carolina said she hadn't heard about Falun Dafa before, but after watching the exercise demo, she felt like the movements were like a smoothly spoken language. She said, "The children's meditation looked so beautiful! I felt strong energy!" She planned to visit a Falun Dafa website for more information.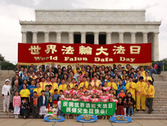 Falun Gong practitioners wish Master Happy Birthday
You are welcome to print and circulate all articles published on Clearharmony and their content, but please quote the source.