Falun Dafa practitioners in Bulgaria celebrated the 25th anniversary of this ancient practice's public introduction with events in Sofia and Varna.
The Sofia group demonstrated the Falun Dafa exercises in the two largest local parks, South Park and Borisova Garden. They also set up an information display in front of Ivan Zavov National Theater to raise awareness about the practice and the persecution in China.
Boyan, a passerby who stopped to watch the exercise demonstration, said that he could see and feel the strong energy of the group doing the exercises together.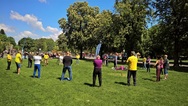 Falun Dafa exercise demonstration at Borisova Garden
Maria Ilieva-Maya, a jeweler, had received a Falun Dafa flyer the day before and felt compelled to return for the event at Borisova Garden.
"I adore the yellow color," she explained. "And when seeing this girl with a yellow T-shirt I told myself 'I'll go see these people because I need yellow.'" Maya enjoyed learning the exercises and folding a paper lotus flower at the event.
Many people signed a petition calling for an end to the brutal persecution of the peaceful practice in China. An elderly man said, "Even though it's happening far away from us, such violations of human rights are unacceptable." He said he had experienced the brutality of the Bulgarian communist regime and thus understood the plight of many people in China today.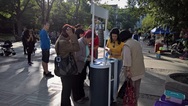 Falun Dafa display booth at Ivan Vazov National Theater in Sofia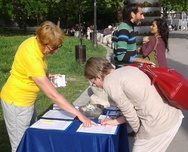 Petya signs a petition to show support at the event in Varna. She had learned about Falun Dafa while living in the US
In Varna, the group gathered to do the exercises at Sea Garden and many passersby stopped to watch and learn more.
A supporter named Petya signed a petition and said, "I lived in the U.S. for almost five months and I came across a Falun Dafa exhibition. It was then that I realized how good the practice was and how severely it is being persecuted in its home country. You have my full support."
In the afternoon, near the entrance of Sea Garden, practitioners continued to distribute flyers and collect signatures of support.
Antony, a Falun Dafa practitioner who had traveled from London for the event, said, "This day was filled with a lot of positive energy. Everything was incredible."
You are welcome to print and circulate all articles published on Clearharmony and their content, but please quote the source.