The Bulgarian Falun Dafa Association sent a press release to the Bulgarian media on August 14, 2016, regarding the Chinese communist regime's refusal to allow Falun Dafa practitioner Mr. Wang Zhiwen to travel abroad.
Mr. Wang's daughter and her husband recently went to Beijing, hoping
 to bring her father back to the United States. They overcame many difficulties to complete all the visa requirements. On their way to the U.S., Chinese Communist Party (CCP) officers in Customs in Guangdong invalidated Mr. Wang's passport.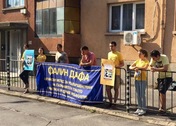 Practitioners in front of the Chinese embassy on August 17, 2016
Mr. Wang was one of the main coordinators of the China Falun Dafa Association (Falun Dafa is also known as Falun Gong). He was arrested in Beijing on July 20, 1999, when former head of the CCP Jiang Zemin initiated the persecution of Falun Gong.
Although Mr. Wang was released from prison in 2014, he has been under surveillance 24 hours a day ever since.
Official letters about the human rights abuses Mr. Wang was subjected to were delivered to the Governmental Commission on Human Rights, Religions, Complaints, and Petitions (which will meet August 31), as well as to Bulgarian human rights NGOs and attorneys.
Falun Gong practitioners held a protest in front of the Chinese Embassy in Sofia on August 17. Two practitioners attempted to deliver a letter to the embassy, urging the consulate employees not to comply with the Chinese regime's order to persecute Falun Gong and asking the Chinese government to reissue Mr. Wang's passport and lift the travel ban.
The clerk, a Bulgarian citizen, became very nervous and told the practitioners that nothing with the logo of the Bulgarian Falun Dafa Association could be accepted by the embassy. She asked them to leave the embassy, saying that it was an order given by the administrative director of the embassy.
The letter was mailed later the same day.
You are welcome to print and circulate all articles published on Clearharmony and their content, but please quote the source.