Falun Gong practitioners in London held a march and rally on July 16, 2016 in conjunction with worldwide activities to mark the 17-year brutal persecution of Falun Gong by the Chinese Communist Party (CCP), and to raise awareness of the CCP's state-sanctioned organ harvesting from living Falun Gong practitioners.
They also drew attention to the global campaign to bring the chief perpetrator of the persecution, Jiang Zemin to justice. Jiang was former CCP leader when he personally initiated and directed the persecution of Falun Gong (also known as Falun Dafa) since 1999.
During the event, practitioners called upon the general public to help end the persecution by signing a petition. Many people understood the brutality of the persecution and added their signatures to support practitioners in their efforts.
Practitioners march through downtown London on July 16, 2016
The Falun Gong march featured practitioners in yellow exercise suits carrying banners reading "Truthfulness-Compassion-Forbearance," and "Falun Dafa Is Good," and display boards depicting the wide spread of Falun Dafa around the world.
Next were four large vertical banners reading "Stop Persecuting Falun Gong." Between the banners were practitioners dressed in white carrying portraits of Falun Gong practitioners who lost their lives to torture and abuse in the persecution.
Behind this group was a group of practitioners carrying banners and display boards reading, "Stop Forced Organ Harvesting in China."
At the end of the procession, a group of practitioners carried banners reading "Global Lawsuits Against Jiang Zemin."
Accompanied by the gentle music of "Pu Du," the procession marched through the busiest commercial streets of London and Chinatown. Many passersby accepted flyers from practitioners, some took pictures of the procession, and some talked with practitioners to find out more. "Thank you very much for telling me this," was often said by people after hearing the facts.
Martin Allfrey from Scotland, freelance photographer, initially came to London to shoot another parade, but he ended up meeting with Falun Gong practitioners who were about to begin their march. A practitioner told him what Falun Gong is about, and that the CCP has persecuted the practice for 17 years. The practitioner also told him of the regime's forced organ harvesting crimes, which amounts to genocide. Inspired to bring attention to the persecution, Martin decided to focus his lens on the Falun Gong practitioners.
Alice, a Londoner, was surprised to see practitioners dressed in white on the street. She told a practitioner that it was the first time that she had seen anything about Falun Gong. The practitioner told her that Falun Gong practitioners were raising awareness through their march so that more people would learn the truth and help stop the persecution, including the forced organ harvesting crimes. Upon hearing this, Alice said, "This (persecution and forced organ harvesting) must be stopped."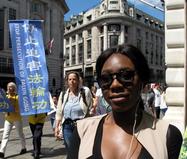 Alice from London hears about Falun Gong for the first time and expresses her support for an immediate end to the persecution
The procession ended at Trafalgar Square, where practitioners held a press conference. Dr. Liu from the UK Falun Dafa Association condemned the CCP's 17-year persecution and called for its immediate end, especially the forced organ harvesting from living Falun Gong practitioners.
Ms. Song recounted her two-year incarceration in a Chinese prison. She told of having her blood drawn multiple times, which was incongruous with the harsh treatment that practitioners routinely received in prison. Evidence has since shown that the medical exams that practitioners were subjected to were related to the large-scale organ harvesting taking place.
Mr. Chen from Doctors Against Forced Organ Harvesting (DAFOH) pointed out that the latest research on the CCP's forced organ harvesting shows that there has occurred large-scale, state-sanctioned organ harvesting abuse. He said that the crime needs the full attention of the international community.
Investigative Journalist Ethan Gutmann, who has carried out extensive research into the organ harvesting crimes in China, spoke at the rally. He said that the forced organ harvesting is not only related to Falun Gong; it also relates to everyone, because it is a crime of genocide. Mr. Gutmann emphasized that no one can take it for granted. He encouraged people to spread the news and take action to end the crime.
After hearing the speeches, many people immediately signed the petition calling for an end to the atrocity.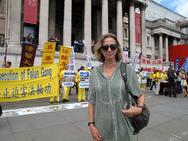 Susan, who works in a hospital in New Zealand, said, "It (forced organ harvesting) is too barbaric, and must be stopped."
Susan, who works in a hospital in New Zealand listened attentively to the press conference. She remarked that such press conferences should be held more often. "It (forced organ harvesting) is too barbaric, and must be stopped," she said.
She added that besides feeling shocked at the atrocity, we should calmly think over how this (crime) relates to us. She believes that people worldwide should gain a deeper understanding of the issue.
You are welcome to print and circulate all articles published on Clearharmony and their content, but please quote the source.