Falun Gong practitioners in the United Kingdom marched in downtown London on October 1, 2016 to raise awareness of the Chinese Communist Party's (CCP) ongoing persecution of the spiritual discipline.
They demonstrated the Falun Gong exercises and called for help from the public to stop the Chinese regime's killing of practitioners and taking their organs for transplants.
A Retired Nurse: Live Organ Harvesting Is Shocking
A man accepted a flyer from a practitioner and paused to read right away as the procession moved on a pedestrian sidewalk near Piccadilly Circus. Charles, from Northern Ireland, has lived in London for over twenty years and retired as a nurse.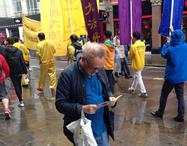 Retired nurse Charles read a Falun Gong flyer while watching the march on October 1
Charles said he knew about Falun Gong and organ trafficking in China, but it was his first time learning about the large-scale state-sanctioned organ harvesting from living prisoners of conscience. He called the crime a "shocking state affair" and encouraged practitioners to continue their efforts to reach out to the public.
Retired Couple: Live Organ Harvesting Cannot Be Accepted
David was a printing merchant for the Hong Kong government 30 years ago. He and his wife Jacqueline talked to Falun Gong practitioners on Trafalgar Square on the afternoon of October 1 and signed a petition against the Chinese regime's live organ harvesting. David said, "The communist system in China is state of intolerance. The live organ harvesting cannot be accepted."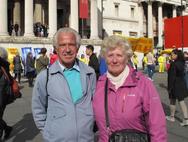 British merchant David and his wife Jacqueline
Nurse: The Party Is Evil
Falun Gong practitioners continued their events despite a turn in the weather. Mary, a nurse, saw the practitioners demonstrating the Falun Gong exercises and read posters about the persecution.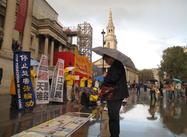 Mary stops in the rain to read about the persecution of Falun Gong
She said, "This is my first time to hear about Falun Gong. I was drawn by the few large words, 'Truthfulness-Compassion-Forbearance.' I just learned that the practice is welcomed in many countries."
She said she is appalled by the Chinese regime's brutal persecution and said the Falun Gong principles of Truthfulness-Compassion-Forbearance benefits society.
Dance Teacher: Complete Investigation into Organ Harvesting Needed
Coria from Italy teaches dance in London. She passed by Trafalgar Square. "The exercise demonstration caught my attention. I have been to China twice," she said.
"I heard about live organ harvesting in China. But I did not know until today that it is a large-scale, state-sanctioned harvesting from such a persecuted group," she added.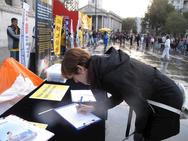 Dance teacher Coria signs a petition against the Chinese government's harvesting of organs from Falun Gong practitioners
You are welcome to print and circulate all articles published on Clearharmony and their content, but please quote the source.