"On February 28th, 2010, police entered the home of Falun Gong practitioner Mr. He Lizhong and took him away. Lizhong is the brother of Canada citizen Lizhi He. Lizhong was imprisoned for a three-year term and was tortured in prison. Some of his fellow practitioners were tortured to death. The reason they were imprisoned is because they practice Falun Gong."
On July 20th, 2012, in front of Chinese Embassy, spokesperson Limin Zhou of the Canada Falun Dafa Association said, "Over the past 13 years, due to the CCP's persecution, such things took place everywhere in China."
As in past years, Falun Gong practitioners in Ottawa gathered at the Chinese Embassy to protest the persecution peacefully.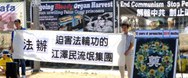 In front of the Chinese Embassy, Falun Gong practitioners protest the CCP persecution
Mr. Xun Li, Director of the Canada Falun Dafa Association, recalled the support and help Canada has given in the peaceful protest against the persecution.
He said, "In the past 13 years, at least 500,000 Canadians have signed petitions calling on the Canadian government to help stop the persecution. The government of Canada was the first in the world to openly condemn the persecution."
He continued, "The Canadian government and people have helped to rescue quite a few Falun Gong practitioners from China. The public has seen our peaceful efforts and courage in protesting the persecution. Many have stood up and joined our efforts to call for an end to the persecution."
You are welcome to print and circulate all articles published on Clearharmony and their content, but please quote the source.