April 25, 2012 was the 13th anniversary of the April 25th appeal in Beijing. Falun Gong practitioners in Ireland held rallies in the capital, Dublin, commemorating this event. They also exposed the Chinese Communist Party's brutal persecution of Falun Gong. Many people expressed their support of Falun Gong and signed a petition opposing the persecution of Falun Gong practitioners in China. Many people showed their interest in the Falun Gong exercises and asked to participate in a free teaching session. Those who had learned the exercises before indicated that they wanted to resume the practice of Falun Gong.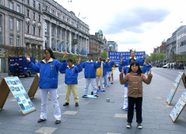 Falun Gong practitioners have group practice in Dublin, commemorating the April 25 appeal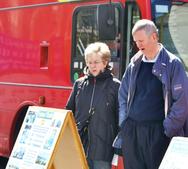 Passersby carefully read Falun Gong poster panels.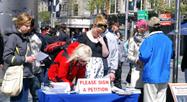 People sign the petition to protest the persecution of Falun Gong practitioners.
David Norrath, an Irish senator, came to the rally. He expressed his admiration for Falun Gong practitioners peacefully protesting for 13 years. He said he was strongly against the Chinese Communist Party's (CCP) brutal organ harvesting from living Falun Gong practitioners, and the so-called "body exhibition." Based on what he knew, the Chinese have no culture of donating their organs and bodies, so where did these bodies come from?
A graduate student who attended the rally indicated her wish to understand more about Falun Gong. She knew only a little about Falun Gong in Taiwan. She had read the book Zhuan Falun and watched the video False Fire: Staged Self-Immolation at Tiananmen Square in Taiwan. She wanted to learn more about Falun Gong as a topic of her studies. She asked a lot of questions and had a lengthy discussion with several Falun Gong practitioners about societal differences between Taiwan and mainland China. She said that she would read the Nine Commentaries on the Communist Party carefully.
Many passersby paused to read the display panels. They showed their indignation at the persecution, and made comments such as, "Why is Chinese Communist Party so senselessly persecuting such a peaceful practice as this?"
Many people were interested in the exercise demonstration by Falun Gong practitioners and many signed the petition to protest the persecution of practitioners in China.
You are welcome to print and circulate all articles published on Clearharmony and their content, but please quote the source.