On the 19th of June 2010, English Falun Gong practitioners came to Preston Park in England's famous seaside city of Brighton, and took part in the activities of "TAKEPART Brighton and Hove International Festival of Sport in Preston Park." They demonstrated the beauty of Falun Dafa to the local people and exposed the persecution taking place in China.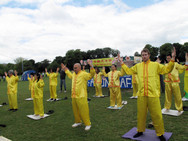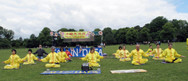 Practitioners at the Brighton and Hove International Festival of Sport demonstrate the Falun Gong exercises.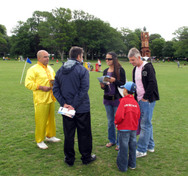 Practitioners introduce passers-by to the beauty of Falun Gong and expose the persecution.

Three young girls sign the petition against the persecution.
The Brighton and Hove International Festival of Sport, held by the government of Brighton and Hove, is the largest exercise festival every year in England, and has been held eight consecutive years. Its aim is to encourage the local people to take part in more health activities by exhibiting many different kinds of methods for keeping fit.
Amongst all the various exercise groups that took part in the festival, the peaceful Falun Gong practitioners made a noticeable presence. Practitioners decorated their display table with beautiful handmade paper lotus flowers and a banner reading "Falun Dafa hao" ("Falun Dafa is good"). They demonstrated the five sets of Falun Gong exercises continuously, during the entire six hours of the festival. Many people stopped to have a closer look at the exercise demonstration, and listened to the music accompanied by a voice-over introduction to Falun Gong. Frequently someone would inquire about the local volunteer exercise practice site location in Brighton, expressing their interest in learning the Falun Gong exercises.
Practitioners handed out Falun Gong informational materials to the festival visitors, and conversed with the people who stopped to find out more. They introduced them to the beauty of Dafa and talked about the persecution of Falun Gong in China by the Chinese Communist Party (CCP). After learning about the brutal persecution in China, many people signed the petition against the persecution. One woman said, "I absolutely do not agree with the [evil CCP's] suppression of this peaceful practice."
During the festival, practitioners also handed out over a thousand elegant handmade lotus flowers. Attached to each lotus flower was a card with "Falun Dafa is good" printed on it, as well as a Dafa website address. All who received the lotus flowers, young or old, were delighted.
One of the organizers of this year's sports festival expressed her pleasure at Falun Gong's contribution to the festival.
You are welcome to print and circulate all articles published on Clearharmony and their content, but please quote the source.