On New Year's Day 2010, the Malaysian Quit the CCP Service Center held a rally in Taman Permaisuri Park to mark 66 million Chinese people renouncing the Chinese Communist Party (CCP) and its affiliated organisations. The rally also celebrated a Spanish court's indictment of high level CCP officials for their persecution of Falun Gong. The rally participants called on Chinese people to quit the CCP in the new year.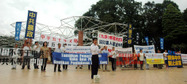 Rally supporting 66 million Chinese who renounced the Chinese Communist Party (CCP) and its affiliated organisations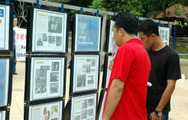 People learn the facts

Tour guide Abdul Mutalib is interviewed
The event was held at 5:20 p.m. Volunteers from the service centre held banners that read, "Nine Commentaries disintegrate CCP," "66 million Chinese quit CCP." "Spanish court indicts Jiang Zemin and four other high level CCP officials for their crimes of genocide and torture," and, "All people are awakening, disintegrating the CCP."
Spokespersons Mr. Wu and Mr. Cai read a statement supporting the withdrawals from the CCP and its affiliated organisations in Malaysian and Chinese during the rally.
Mr. Cai read, "When violations of human rights occur in one place, it is not just a crime against the local people, but a crime against the entire international community and all mankind."
"In July 1999, the CCP regime headed by Jiang Zemin initiated a policy of genocide against Falun Gong practitioners. It has now been more than ten years. The brutality is beyond the imagination of most people. The CCP's large scale organ harvesting from live Falun Gong practitioners is an evil unprecedented on this planet. The persecution is not only limited to China, but has also extended to overseas. The CCP infringes on overseas Falun Gong practitioners' human rights by many methods and forces other countries and media to keep silent."
At the rally, posters were set up to expose the CCP's history of killing since it took power 60 years ago.
Abdul Mutalib, a local resident and a tour guide, said in an interview, "This event is very good as it can awaken people's conscience. It will get support not only in Malaysia, but throughout the world."
"Currently, we have become globalized without borders in terms of information. Many people in Malaysia can get information about incidents in China and other communist countries. Whether Malaysian, Chinese or Indian, we support this event since it is about human rights."
Regarding the Spanish court's indictment of Jiang Zemin and other CCP officials, Mr. Mutalib said, "We hope more positive progress will occur that will give Chinese people more freedom."
Regarding the CCP's live organ harvesting, he said, "The whole world needs to stand up to protest such a crime."
You are welcome to print and circulate all articles published on Clearharmony and their content, but please quote the source.