Vancouver practitioners held a signature collection activity on November 14th, 2009 in front of the Vancouver Art Gallery. They made a strong appeal to Canadian Prime Minister Stephen Harper, who is scheduled to visit China on December 2nd, 2009, to help rescue the relatives of Canadians during his visit. These people have been detained in forced labour camps and prisons by the Chinese Communist Party (CCP) authorities for practising Falun Gong.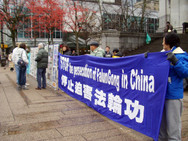 Banners at signature collection venue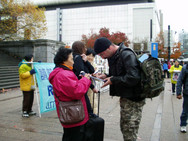 Practitioners collect signatures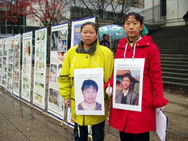 Jing Cai (right) and Yang Jinyan's elder sister (left) hold portraits of their family members and collect signatures
Falun Gong practitioners held banners reading "Please Help Rescue Our Relatives" and "Stop the Persecution of Falun Gong." They also displayed photos depicting tortures used to abuse and mistreat Falun Gong practitioners in detention facilities in China. Many people showed concern and many came over to sign the petition as soon as they saw it was a Falun Gong event.
Practitioners stated in the petition letter to Harper that during the past ten years, the CCP's persecution of Falun Gong has caused the deaths of thousands of practitioners. Several hundred thousand practitioners have been detained in forced labour camps, prisons, and mental hospitals, and an estimated several tens of thousands of practitioners have been killed in the process of having their organs harvested while they were still alive. In Canada, twelve Falun Gong practitioner family members are still being held in China's prisons and forced labour camps. Vancouver residents Jing Tian and Jing Cai, who are from Shenyang City, have a younger brother named Jing Yu who was illegally sentenced to ten years in prison and is now being forced to do hard labour in Dalian Prison. A couple in their eighties who have been living in Vancouver for thirty years have a daughter named Yang Jinyan who has been arrested seven times and is now facing an illegal sentencing.
The petition expresses hope that Harper will urge the CCP regime during his visit to China to stop the persecution of Falun Gong and help rescue the detained relatives of Canadians.
Jing Tian and Jing Cai, with portraits of their younger brother Jing Yu hanging in front of their chests, came to the signature collection event to explain to people what had happened to their loved one. Jing Cai said that they had not heard from their brother for quite a long time. When they made a phone call, when the person answering heard the name of their brother, they hung up the phone. She continued that the CCP's persecution of Falun Gong has persisted for ten years, they hope that Harper will help rescue their brother and other Falun Gong practitioners. They said that the CCP has been accustomed to whitewashing itself in the international community to try to cover up the real situation of the persecution. The CCP will be afraid if the international community exerts pressure. Jing Tian and Jing Cai were rescued to come to Canada in May 2009. Within a few months, they have experienced the difference between the life in Canada and China, and the kindness of the Canadian people. Many people are ready to sign the petition showing their support for Falun Gong practitioners.
Ms. Yang Jinyan's elder sister also hung Yang Jinyan's portrait in front of her chest. She said that her younger sister has been arrested seven times for practicing Falun Gong since the persecution started in July 1999. She was subjected to gross abuse and mistreatment, and was arrested again on July 15th, 2009, for talking to people about Falun Gong, and is now being held in the Zhongshan Detention Centre in Guangdong Province. The authorities notified her brother-in-law that Yang Jinyan would be sentenced. She hopes that Harper will help rescue her sister to secure her release.
Practitioner Mr. Ma said that the signature collection event helped many people learn the facts. They signed the petition to support the practitioners' efforts. He said that kind Canadians were often puzzled why the CCP persecutes a group of cultivators. "I told them the CCP's evil nature, its history of killing Chinese people, and that Falun Gong follows Truthfulness-Compassion-Forbearance, and they said they understood, " said Mr. Ma.
Over 800 signatures were collected during the four-hour event, and practitioners said that they would continue the signature collection prior to Harper's visit to China.
You are welcome to print and circulate all articles published on Clearharmony and their content, but please quote the source.