Falun Dafa practitioners were invited to participate in the annual Homecoming Parade at the University of Missouri in Columbus, Missouri, on October 24th, 2009. They promoted Falun Dafa to thousands of spectators.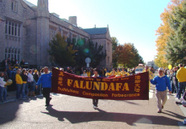 Practitioners in Homecoming Parade at the University of Missouri, Columbus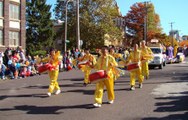 Tang drums in the Homecoming Parade
Falun Gong exercise demonstration
The university town of Columbus, Missouri has a long history. It was the first city to have a public university west of the Mississippi river, and now is the largest public teaching and research institute in Missouri. Over 30,000 students attend. They come from various states of the US, as well as many foreign countries including China, as there are many Chinese international students. There are over 12,000 faculty and staff at the Columbia campus.
The homecoming tradition originated at the University of Missouri in 1911. The annual homecoming event has become an important tradition at many universities in the US, a time when alumni often return to the school to renew their memories and meet old acquaintances. Usually, the homecoming activities include a parade and a big football game.
At this year's event, people of the university town packed the streets to watch the parade before the big game.
The Falun Dafa parade entry was lead by a banner reading, "Falun Dafa," followed by Tang drum players. Behind the drummers, Falun Gong practitioners demonstrated the exercises on a decorated float. Many spectators took photos and videos of the float. Some wanted to learn more about Falun Gong and were eager to receive a flier.
Many Chinese families also took the Falun Gong fliers. Some were surprised to see a Falun Gong float and others appeared excited and proud, and some smiled at the Falun Gong practitioners. A young man from one young Chinese family video taped the drummers and exercise demonstration from start to end.
Some spectators expressed interest in learning the Falun Gong exercises. When the procession marched to the main stage, the host introduced Falun Gong as an ancient Chinese meditation exercise based on principles of Truthfulness-Compassion-Forbearance, which can uplift the spirit and improve health, that has become popular around the world.
You are welcome to print and circulate all articles published on Clearharmony and their content, but please quote the source.