On 24th and 25th September 2009, thousands of students from Kingston University went to explore the stalls at the Fresher's Fayre. The two tents located just outside one of the main university campuses were filled with students throughout both days. It was a chance for new students as well as existing students to find something they may be interested in outside their studies.
The serene images of the practitioners in meditation and the sign reading "Falun Gong, meditative exercises" caught the eye of students strolling by. Most had not heard about Falun Gong before, and after learning more, happily left their contact details to find out about the free sessions held weekly at the university. One student watched a practitioner in amazement as she meditated in tranquillity amongst the crowds and background noise, then said "I want to be like that!"
Many people came to the Falun Gong stall to find out more
Hand-made paper lotus flowers were displayed on the table. Students felt happy to receive them, and came back with their friends, wanting to know more about Falun Gong. One girl said everyone kept asking where she got the lotus flowers from so she helped to give them leaflets and explain to them what Falun Gong is: an ancient practice for mind and body.
Students happily left with a paper lotus flower and a leaflet
Local MP for Kingston and Surbiton, Edward Davey passed by the stall, and expressed his support. He said he had already heard about the ongoing persecution that Falun Gong practitioners suffer in mainland China. By the end of the day countless students had a lotus flower and wanted to try out the exercises of Falun Gong.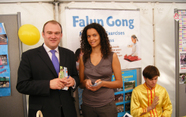 Local MP for Kingston and Surbiton Edward Davey expressed his support
You are welcome to print and circulate all articles published on Clearharmony and their content, but please quote the source.