On July 19 2009, Falun Gong practitioners in France rallied at the Eiffel Tower in Paris, exposing the Chinese Communist regime's ten years of persecution against Falun Gong.
Banners read "Stop Persecuting Falun Gong" and "Falun Dafa is Good". While some practitioners demonstrated the five sets of Falun Gong exercises, others displayed some torture methods that are used by the Chinese Communist regime on Falun Gong practitioners. There were also posters so that people could find out more about Falun Gong. Many people stopped to see the activity and were moved by the truth. A lot of them signed the petition condemning the Chinese Communist regime's persecution of Falun Gong.
| | |
| --- | --- |
| | |
| Falun Gong exercise demonstration and torture re-enactment | TV Station 5 filming the torture re-enactment |
| | |
| TV Station 5 interviewing a Falun Gong practitioner | AFP reporter interviewing a Falun Gong practitioner |
Reporters from France's TV Station 5 and AFP attended the rally and filmed the whole demonstration. They also interviewed Falun Gong practitioners.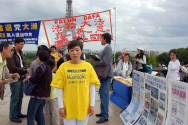 Ms Feng Yajun who was illegally detained in a forced labour camp because she refused to renounce Falun Gong
Ms Feng Yajun is a Falun Gong practitioner who escaped from Mainland China. Both her parents were killed by the communist regime because they refused to give up their Falun Gong belief. Her brother, also a Falun Gong practitioner, was forced to flee China. Ms Feng Yajun told reporters that she was illegally detained in the forced labour camp for two years because she refused to renounce Falun Gong. She suffered torture and maltreatment. Fortunately she managed to get out of China. She appealed to all kind-hearted people to help stop the Chinese Communist regime's persecution of Falun Gong.

Ms Alaina and her daughter
Ms Alaina and other western Falun Gong practitioners went to Tiananmen Square, Beijing in 2002 and unfolded a banner reading "Truthfulness, Compassion, Tolerance". Now she is a professional businesswoman and a mother. However her firm determination to stop the persecution has not changed a bit. She recalled: "At that time, there were thirty six practitioners from twelve nations, including American, German, French, Swiss and others. We had a very simple idea: go to China's Tiananmen Square and tell the Chinese people there that Falun Gong is practised around the world. We wanted to express our support to Falun Gong practitioners in China. The police were very afraid of us. They were very afraid of Chinese people seeing us. They immediately surrounded us with buses and brutally took us away from the square."
President of the French Falun Dafa Association Mr Tang Hanlong spoke at the rally: "Today we gather here again, using the form of a torture re-enactment, exercise demonstration, poster displays and musical performance, to let people know about Falun Gong and the persecution of Falun Gong in China, to remind the general public that tens of thousands Falun Gong practitioners are still being persecuted in Mainland China. We will continue our counter-persecution efforts until the day the persecution ends."
Belgian tourist Mr Hugo Claus is a writer. After carefully reading the information in the posters, he signed the petition and said, "I know the Communist Party very well. It is certainly evil to persecute innocent and peaceful people. I support your efforts."
Feisa and Sylvie
Feisa and Sylvie were touched after reading the information. They both signed the petition calling for an end to the persecution.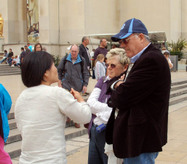 Mr and Mrs Albert learn about Falun Gong
In order to have a deeper understanding about Falun Gong, Mr and Mrs Albert stayed at the rally site a long time. They were told by some Chinese people before that Falun Gong is not good. They asked practitioners at the rally why some of their compatriots don't support them. A female practitioner explained to them in great detail what Falun Gong is and why the Chinese Communist regime wants to persecute Falun Gong. Because of news censorship and the dictatorial rule, people in China can't hear the truth so easily. Many people's understanding of Falun Gong comes from the negative propaganda spread by the Chinese Communist regime in order to justify its persecution campaign. This is a method routinely used by the regime. Finally this elderly couple understood the truth and left the site happily.
A French father and his son said that they hadn't heard of Falun Gong before. Now they saw it, it is really a great cultivation method. They thanked Falun Gong practitioners for telling them such good information.
Since the Chinese Communist regime started its brutal persecution campaign on July 20, 1999, Falun Gong practitioners in France have been at the world-renowned Eiffel Tower to tell the general public, the French government and tourists from around the world the truth about Falun Gong. Ten years have passed. The freezing cold winter and intense summer heat have not diminished Falun Gong practitioners' firm belief: Justice will prevail over evil and the persecution is doomed to fail.
You are welcome to print and circulate all articles published on Clearharmony and their content, but please quote the source.