On 23rd May 2009, Falun Gong (also called Falun Dafa) practitioners held a Falun Dafa information day in Kassel, the biggest city in the middle of Germany. he aim of the information day was to let more people know about Falun gong and the ten years of persecution that the practice has faced in China at the hands of the Chinese Communist Party.
| | |
| --- | --- |
| | |
| The person on the right wearing the black clothes is a student from Kassel. After he came to know what Falun Gong is in detail, he learned the exercises on the spot | After learning the first exercise, the man on the right repeatedly said how good it was, and even started reading one of the Falun Gong books |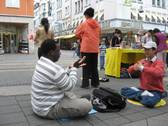 This man, who was from America, learned the exercises on the spot
| | |
| --- | --- |
| | |
| People sign their name in support of Falun Gong and calling for an end to the persecution | Several students signed their names to quit the CCP, and even put on badges that supported quitting the CCP |
Saturday in Kassel was warm and sunny, and there were many people coming and going in Great King Street. The information day activity began, and people who wanted to know about Falun Gong came to the stall. When many people understood that in China innocent Falun Gong practitioners who believe in "Truth, Compassion, Tolerance" are brutally persecuted, they did not hesitate to express their support for the Falun Gong practitioners' activity of opposing the persecution. Some even learnt the exercises on the spot.
After learning the first exercise, one man told a practitioner that he had read many books about spiritual practices. Recently he had experienced many unusual things that were hard for him to explain, and he always believed that something was going to happen in his life. With tears in his eyes, he said that maybe today was the most important day in his life. Holding "Zhuan Falun" (the main text of Falun Dafa practice) in both hands, he read many pages , and when he came across many questions that he did not understand he asked the practitioner next to him who had taught him the exercises. The practitioner patiently said to him: when you have finished reading the whole book, you will understand all the questions that you presently don't understand.
A man called Micah Saunders, who had come travelling to Germany from America, was watching the practitioners practising the exercises, and for a long time was reluctant to leave. He enquired in detail about the details of how Falun Gong had been persecuted by the CCP, and about the principles of the exercises of Falun Gong. When a practitioner told him that after continuing to practise for a certain amount of time, one's body will feel an increase in energy and be purified, he at once interrupted the practitioners words and said "without practising for a certain amount of time, right now my body is very comfortable. I feel that when I practise my arms have a very marvellous feeling, this practice is just so great!".
This man learnt all five sets of exercises. On departure he expressed to practitioners that when he returns to America he will write a letter to the Chinese and American embassies requesting that the CCP stop persecuting Falun Gong, and he would also write a letter to his friend in the American Congress, requesting his friend in Congress to help Falun Gong. He said he would like to do whatever he can do to put and end to this persecution.
A passer-by told practitioners that she had practised Taiji, and that she understood many things about cultivation practice. She said, "Your energy field here is very strong, and the small pamphlets you are handing out are made very well." She said that she felt that what Falun Gong practitioners were doing was not an average thing.
A Chinese woman called Ms Liu is a graduate of film school. She said she knew a lot of the true situation of Falun Gong. Originally when she was at university, she had a fellow student from China who used to pick on other people. Later she found that this fellow student suddenly turned good, and once even helped her, making her feel very strange. She asked him, "Why did you change?". This student said "I practised Falun Dafa, it is Falun Dafa that changed me." From that time onwards, she came to know that Falun Dafa is a Qigong system that teaches people to be kind.
Mrs Liu also said that after the persecution started, she knew of at least eight fellow students who practised Falun Gong and did not receive their graduation certificates. On the spot she agreed to withdraw from the Chinese Communist Party and its affiliated orgnaisations.
Mrs Liu also excitedly told practitioners that she and her family members and friends within China from time to time received automatic phone calls from abroad, and they all said "Falun Gong really is awesome! They really have done so well, and the truth phone calls have even been made to our houses."
You are welcome to print and circulate all articles published on Clearharmony and their content, but please quote the source.