On May 16th, 2009, Falun Gong practitioners, including the Texas Divine Land Marching Band, gathered in Austin, the capital of Texas, to celebrate the 17th anniversary of Falun Dafa's public introduction and the 10th World Falun Dafa Day. Activities were held in front of the capitol building and in Chinatown. Texas State Representative Elliott Naishtat came to speak, offering his congratulations on World Falun Dafa Day.
Although it drizzled in the afternoon, the Divine Land Marching Band brightened the day by performing "Falun Dafa Is Good," "Fa Drums and Fa Trumpets Shake the World in Ten Directions," "Fa Rectifies the Universe," and "Delivering the Gifts." It was the first time that the Texas Divine Land Marching Band made an appearance in Austin since it was established two years ago. Their rousing performance drew people to the square in front of the Capitol building. Many took flyers from practitioners and read them carefully to learn about Falun Gong. A visitor from San Antonio said, "The entire event was very impressive. My son was glued to the spot, deeply impressed by the band's performance. You really touched his heart."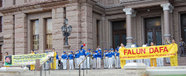 The Divine Land Marching Band performed in the rain in front of the Texas State Capitol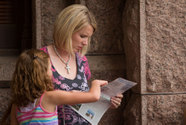 A young lady and her daughter read a Falun Gong leaflet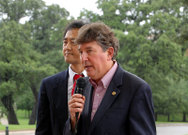 Veteran Texas State Representative Elliott Naishtat spoke at the celebration of World Falun Dafa Day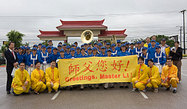 Practitioners in Austin had a photo taken in Chinatown to extend their best regards to revered Master
Texas State Representative Elliott Naishtat, who is in his eighth term, has been supporting Falun Gong's efforts against the persecution and condemning the Chinese Communist Party's human rights abuses. He came to the event despite the rain and congratulated the practitioners from Texas on World Falun Dafa Day. The founding of the United States, he reminded the crowd, was based on freedom. The human rights abuses happening in China, including the persecution of Falun Gong, must be stopped. He hoped that the event would help Americans learn about the human rights abuses by the Chinese Communist Party. He said, with hope, that he believed that people all over the world - including China - would publicly and freely practise Falun Dafa for another 17 years, and then another 17 years, and forever.
As the rain let up, tourists stopped to enjoy the Divine Land Marching Band's performance and applauded. Many had their photos taken with the band in the background.
After that, the practitioners went to Chinatown in Austin. People on the streets were impressed by the good demeanour and performance of the Divine Land Marching Band. They watched quietly, and some spoke with practitioners to learn about the persecution in China.
Under the decorated archway of Chinatown, practitioners shouted in unison "Greetings, Master!" "Falun Dafa is good!"
You are welcome to print and circulate all articles published on Clearharmony and their content, but please quote the source.