On April 25 2009, in order to commemorate the tenth anniversary of the "April 25" peaceful appeal, Falun Gong practitioners in the UK held a day-long commemorative activity in London. This included demonstrating the Falun Gong exercises and holding a peaceful protest at the Chinese Embassy, hosting a press conference, holding a parade through central London and Chinatown and a candlelight vigil in front of the Chinese Embassy.
Falun Gong practitioners in front of the Chinese Embassy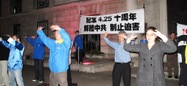 A candlelight vigil at the Chinese Embassy

People sign a petition against the persecution of Falun Gong
The activities attracted many people's attention. Many were drawn by the practitioners' exercise demonstration and the solemn candlelight vigil. They read display boards with information about various aspects of Falun Gong, and many signed their names supporting the practitioners' efforts to end the persecution.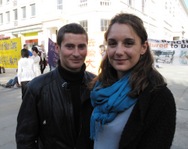 Alexandra and her boyfriend: "You are doing a good thing."
Alexandra and her boyfriend were tourists from France. During their short stay in London, they happened to see the practitioners at St. Martin's Square in central London. This was their first exposure to Falun Gong. Alexandra was shocked by the brutal persecution occurring in China and encouraged the practitioners to continue in their efforts.

Laurent from Italy
Laurent from Italy is a financial analyst in London. He and his girlfriend passed through St. Martin's Square that day, and they stopped to look at the banners and Falun Gong exercise demonstration. They also received a Falun Gong flier. Laurent was saddened by the persecution of Falun Gong. After practitioners told him about the April 25 peaceful appeal, he said, "I have not been to China, but these facts say that China has no human rights and no freedom of expression. Today's activity is very useful. For example we were not aware of these things, and now we know. I will gather further information and perhaps in a few days I will learn more. I hope the British government can take a clear stance."
John, originally from India, is an architect in London. He is familiar with the practitioners' 24-hour peaceful protest at the front of the Royal Institute of British Architecture (RIBA) opposite the Chinese Embassy. He said, "For many years I have noticed that there is always one person, a British or Chinese, at the front of RIBA doing sitting meditation there. But this is the first time I see so many of you. I want to learn about Falun Gong a bit further." He continued, "My cultural background is very international. I strongly believe in the freedom of belief. I am against any form of persecution, against governments that deprive people of their rights to freedom of belief. The dictatorship should not replace freedom. Regrettably there are still people who don't believe such terrible things are occurring in China." While watching the Falun Gong exercise demonstration, John also asked practitioners many questions and said that he would read the Falun Gong websites when he got home.
Two young Indian gentlemen express their support for Falun Gong
During the night, the Falun Gong practitioners were doing the sitting meditation accompanied by the peaceful exercise music. Two young Indian gentlemen were quietly reading the information on the display boards. Mr. Bradid Shah is engaged in environmental science research, and Mr. Tushar Singh is a business analyst. Mr Shah said, "I wish Falun Gong well. I think it is just to strive for basic human rights. I believe Falun Gong will win." Mr Singh said, "I support Falun Gong practitioners and I am against the persecution. Protecting human rights is the most basic thing any government in the world should do. Falun Gong looks very peaceful. They want to improve their physical and spiritual well-being. This is helpful to world peace. They certainly should be allowed to do it. I certainly support Falun Gong."
You are welcome to print and circulate all articles published on Clearharmony and their content, but please quote the source.