On December 17th, 2008, the European Parliament held the Twentieth Award Ceremony of the Sakharov Human Rights Prize at their headquarters in Strasbourg, France. Hu Jia, a human rights activist in China, was awarded the prize. At the same time, the European Parliament's Liaison Office in Finland and human rights organisations such as Amnesty International co-sponsored a seminar entitled "Hu Jia and the Present Situation of China's Human Rights " in the European Union Plaza, Helsinki. Those who attended the seminar were representatives from Europe and the Organisation for Security and Cooperation, Finland Parliament, Finland Independent PEN (the International Association of Poets, Playwrights, Editors, Essayists, and Novelists), the Falun Dafa Association in Finland and more than 20 human rights organisations.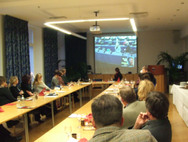 The seminar was entitled "Hu Jia and the Present Situation of China's Human Rights"
Ms. Pia Siitonen, one of the organisers from the European Union Liaison Office, said, "Today we are holding this seminar. First of all, we would like everybody to know that Hu Jia has been awarded the prize, then we will talk about what Hu Jia has done and the basic present situation of China's human rights, and finally, let all who have attended the meeting express their own views."
Meri Mkihannu from Amnesty International said, "We support human rights activists in China, Hu Jia is one who is well-known. I know that he does not only air his opinions for his work but also speaks for other human rights activists. So, I think that what he has done is of the utmost importance. Chao Jinyan, his wife, is also an important human rights activist. In order to improve the situation of human rights in China, we need a person such as him – that's why we want to support him. We also want people here to realise that we want to express our support for him." She also talked about what efforts Amnesty International had made in helping some other human rights activists such as Gao Zhisheng.
Heidi Hautala, a member of Finnish Parliament, talked about her personal experience in October this year when she was in Beijing, which helped the seminar attendees realise the grim situation of human rights in China. She tried to visit Chao Jinyan and her daughter but was stopped by police. She said, "Why did I go there? It was very important to have the Chinese government know that we, including other countries, are concerned about this matter. We cannot accept that anyone has been in prison just because of his political behaviour. What cannot be tolerated is that family members of the person sentenced are also under house arrest and their individual freedom is restricted." While talking about human rights in China, she particularly mentioned the human rights of Falun Gong practitioners. She said:" Western human rights activists should realise that Falun Gong is not a dangerous religion. This group is beneficial to both the development of human beings and their moral improvement. Therefore, we should be more concerned about Falun Gong."
When talking about the issue of Falun Gong, the representative Amnesty International said, "In China, Falun Gong practitioners have been completely deprived of the right to speak. That means that many people explain what Falun Gong is but none of them are practitioners."
The seminar ended with a full live broadcast of the Sakharov Prize Award Ceremony from Strasbourg, France.
You are welcome to print and circulate all articles published on Clearharmony and their content, but please quote the source.