Jul 25, 2008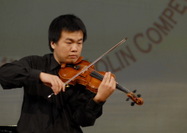 Contestant Liu Fang-Yu (Daibing/EpochTimes)
NEW YORK - After the first round of preliminaries finished on Friday, July 25th, the judges of the first NTDTV International Chinese Violin Competition left the New York City Town Hall Foundation visibly pleased.
Louis Lev, one of the judges and Associate Principal Second Violin for the Pittsburgh Symphony Orchestra praised the high skill level of the contestants: "They are very musical players. Today we heard a level that really is quite amazing regardless of style and differences. We've seen some very good training. Some people have a very good background and teachers and they have shown us good ideas and techniques."
Another judge, Sherry Kloss, former student and assistant of violin legend Jascha Heifetz, expressed her valuation and appreciation for this unique competition hosted by NTDTV, which is part of its Nine Competitions Series.

Contestant Tsai Chen-Han (Daibing/Epoch Times)
"I think it's an absolutely fabulous conception of all the venues this organization is offering for the competition. It's innovative, it's individual. Everyone is an individual, and here we are really commencing something that is crucial, crucial for the survival of the music. What we are seeing today is that there is tremendous potential."
And about the passion of the young violinists, she added: "I'm sitting there and I'm admiring their courage and their desire to give their presentation."
The semifinal and final rounds Saturday and Sunday are open to the public. Tickets are available as a day pass for $20 general admission and $10 for students and seniors at the Town Hall Box office, or Online at Ticketmaster or by calling 212-307-4100.
Source http://en.epochtimes.com/n2/arts-entertainment/preliminaries-of-chinese-violin-competition-impress-judges-1709.html
You are welcome to print and circulate all articles published on Clearharmony and their content, but please quote the source.