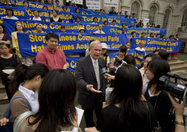 RESOLVE: City Council member Tony Avella from Queens talks to the media about his resolution to have hate crime charges brought against the perpetrators of violence in Flushing against Falun Gong practitioners. (Edward Dai/The Epoch Times)
Councilmember Tony Avella (District 19) announced a resolution that he will introduce in the City Council this summer regarding the recent mob violence against Falun Gong in Flushing and other parts of the city.
"I'm here to say on behalf of the members of Falun Gong that here at the city we are not going to tolerate this," Avella said. "I hope that sometime during the summer I can get quick passage of the resolution."
The resolution calls on Queens District Attorney Richard A. Brown to charge those arrested in recent attacks on Falun Gong practitioners with hate crimes. A hate crime denotes attacks on specific people based on their religion or beliefs and additional penalties apply to those convicted of it.
In addition, the resolution will ask the FBI to investigate allegations that the Chinese Communist Party is behind the attacks.
"If the Chinese government is found in any way, shape, or form to have participated in, encouraged, or supported these attacks, then those individuals should be expelled from this country," Avella said.
Avella sent letters to the FBI and the Queens DA today, urging them to take action.
Falun Gong spokesman Erping Zhang expressed his appreciation for Avella's resolution. "It is appalling to see that the communist regime in China is treating New York as their own backyard," Zhang said. "We appreciate this resolution and we move to put an end to this mob violence on US soil as soon as possible."
At least 12 arrests have been made since May 20 in relation to attacks against Falun Gong practitioners.
Incidents mostly involve verbal attacks--but in some cases physical assault--around the Center for Quitting the Chinese Communist Party in Flushing.
Passersby who curse at Falun Gong practitioners distributing flyers have become a common sight on Main Street in Flushing since mid-May. However, practitioners have been doing this for years without incident, leading to the conclusion that the recent slew of attacks are part of an organized campaign against the spiritual group.
Further evidence suggests that the Chinese consulate encouraged the attacks. In a May 21 phone conversation with an investigator posing as a CCP ally, the New York Chinese Consul General, Peng Keyu, boasted that he rallied groups of Chinese against Falun Gong practitioners.
"They came over after they fought with Falun Gong and I shook hands with them one by one and thanked them," Peng is recorded saying.
Resolution Time Frame and Procedure
Within two weeks --The City Council's legal division will review Avella's submitted resolution.
In July -- If approved, the resolution will be introduced, then referred to a committee.
The committee will then hold a hearing where all sides may testify.
In the autumn: If the committee passes the resolution, it will become an official recommendation of the New York City Council.
You are welcome to print and circulate all articles published on Clearharmony and their content, but please quote the source.