On the 15th of March 2008, the National St. Patrick's Day Parade was held in Cashel Town in County Tipperary which is located in the south of Ireland. Falun Gong practitioners attended and were made very welcome at the activity.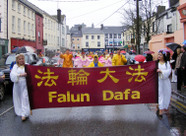 Falun Gong practitioners take part in National St. Patrick's Day Parade in Cashel
Although it was drizzling on and off, the happy atmosphere of the festival wasn't affected. Up to 1000 people in colourful clothes watched the parade holding their umbrellas up against the rain. The only Chinese community group in the parade, a Falun Gong cultivation group performed the elegant and graceful Chinese traditional lotus dance and fan dance, as well as the Chinese drummers and won continuous applause from the audience.

A construction worker, Martin, expressed that the performances of dozens of performing groups made them feel that the parade was excellent; especially the dance and drum from the Falun Gong cultivation group, it has brought the whole small town some vivid colours. Martin said, "St Patrick's Day is wonderful! I have been living in Cashel for 22 years. Every time of the year is wonderful. I feel the Falun Gong cultivation group's dancing performance added more colour to the whole parade.
Retired school teacher Denny and his wife Carmo watched the parade together with their other family members. They expressed that, every year there is a St Patrick's Day celebration activity, not just this year. But this year's National Day was very special, since in each of the passed years, the fire works was bound to be held in the capital city Dublin, but today, it would be fortunately carried out in Cashel, it was really exciting. His wife Helen said with joy, my family all came from Dublin to watch the parade and fire works. Tonight we will celebrate the big occasion with good wine.
The local Falun Gong practitioner Tracy said, "Tonight's fire works would start at 6:30pm. There would be 15,000 to 17,000 people from all over the world watching the fire works. That would be splendid. She also introduced the Falun Gong cultivation group who also participated in last year's performance and won the prize. Today, we are not only being invited to Cashel's National Day parade, but also going to take part in the National Day parade in Cork city, which is the second largest National Day parade after the one in the capital city Dublin.
St Patrick's Day is on March the 17th and is the National Day of Ireland. Irish people celebrate it with fire works and the form of parade. The parade includes music display, performances on the street and dancing and so on.
You are welcome to print and circulate all articles published on Clearharmony and their content, but please quote the source.