Location: Administrative Tribunal Minden at Koenigswall 8, 32423 Minden
Date: November 7th 2007, 9:00 a.m.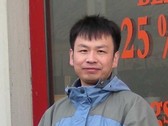 Mr. Zhongo outside the restaurant in Herford where he works as a cook
Mr. Wang arrived in the Federal Republic of Germany on 2/9/2001. He had been hired to work as a cook in a Chinese restaurant. Since March 2003, he has practised Falun Gong and actively exposed the persecution of Falun Gong in China. He filed a petition for asylum on 2/9/2004 but he asylum request was dismissed on 11/02/05. He appealed and by those serving justice filed in May 2005 a petition application with the Bundestag [Lower House of the German Parliament], which received a favourable outcome in December 2005.
The Bundestag Committee on Petitions is of the opinion, "that BAMF should open the asylum request by the petitioner, bearing in mind the proven danger of being persecuted if deported to China."
Torture victim and friend of petitioner Zhen Wang said, "He can expect torture and possible loss of life if deported to China."
Mr. Zhen Wang, friend of the claimant, had received in Brakel two hip implants because of suffering injuries from torture. He fears for the safety of his friend Wang, because he partook in many Falun Gong activities in Germany. Therefore, Wang claims that he is well known to the Chinese authorities by now. Wang Zhen is especially worried because of the news that Falun Gong practitioners suffer systematic organ harvesting for profit.
"My name is Zhen Wang. I came to Bielefeld from Shanghai. I'm a Falun Gong practitioner and a survivor of the Shanghai Qingpu slave labour camp. I was arrested because I practise Falun Gong. Because of torture I had implanted hip prosthesis on my right and left side. Now, the Chinese Communist Party (CCP) removes organs from live Falun Gong practitioners and sells them for profit. They also took my blood and an EKG when I arrived in the camp. Yet, when I needed medical attention, I was ignored. At the time, I didn't think about it. But, it is quite logical after one reads the investigative reports about organ harvesting. Now, the decision has to be made by the court, to grant or deny Falun Gong practitioner Wang Zhongo asylum. I'm calling for help from everyone to come and support us in court."
Family destroyed after being deported from Germany. Asylum granted retroactively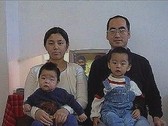 The Jian-go family were wrongly deported
On March 7th 2005, Falun Gong Practitioner Mr. Jiang Renzheng, his wife Ms. Guo Rui and both of their little children were deported into the clutches of the Chinese police.
After returning to his hometown, Mr. Jiang was arrested and sentenced to three years slave labour. The Germany authorities used the same reasoning for dismissing the asylum request that they used in Wang Zhongo's case. They don't recognise him as a Falun Gong practitioner. Since Mr. Jiang was imprisoned in the slave labour camp in China, his wife and children have been on the run. The Wuerzburg Administrative Tribunal granted retroactively asylum to the family in November 2005. Alas, despite efforts by the Federal Republic of Germany, family Jiang-Guo is still in China.
The presence and attention by the process observers will grant a fair and open hearing to Mr. Wang Zhongbo.

Published in German at http://de.clearharmony.net/articles/200711/40406.html
You are welcome to print and circulate all articles published on Clearharmony and their content, but please quote the source.