The "Truthfulness-Compassion-Tolerance" art exhibition was held in the Memorial Union building at Oklahoma University on November 14th, 2007. The exhibition was sponsored jointly by the International Affairs Society (IAS) and Falun Gong practitioners. More than 20 artworks by practitioners were displayed. After visiting the exhibition, many people thought it should stay on campus so that more people could learn the true story of Falun Gong.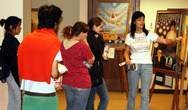 Students listened carefully to a Falun Gong practitioner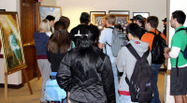 A professor took her class to the art exhibition
Members of IAS designed a poster and printed new flyers for the exhibition. They distributed an email about the exhibition to students in the university. Several Falun Gong practitioners from Tulsa and Dallas went to support the activity by guiding the visitors and answering their questions. A Western practitioner was invited to introduce Falun Gong and expose the persecution of practitioners in China.
The artwork in the exhibition told true stories of Falun Gong practitioners. They showed the beauty of Falun Dafa and the glorious journey of how steadfast Falun Gong practitioners have validated "Truthfulness-Compassion-Tolerance" with their lives. Visitors to the exhibition were touched by the beauty of the artwork and appreciated practitioners' explanations. Many were shocked to learn of the brutal persecution of Falun Gong in China.
A young college student studied all the artwork very carefully and seemed very touched. She expressed her gratitude to the artists for showing people what compassion is and what evil is. Another student said he planned to go to China to study Chinese. He was happy to learn abou the true situation in China. He said he would pay attention to the persecution.
It was the first time for some to hear about Falun Gong. They said the art exhibition was an opportunity for them to learn what Falun Gong is. Some hoped to learn more about it and local practitioners. They took information from the booth before leaving.
When practitioners were taking down the artwork at the end of the exhibition, a large group of people came in. It turned out that a professor was taking his entire class to the exhibition. However, the room for the exhibition had been booked by another activity right after the exhibition, and the room had to be vacated by a certain time.
To allow the professor and his students to see each piece of art, some practitioners guided them to the works that hadn't been taken down. Other practitioners put the rest neatly along the hallway. The professor and his students were able to see all the artwork in the room and the hallway. They asked questions as they looked. They hoped to learn more about China and what was happening in China, especially about the brutal persecution. They hoped more people would learn about it and the persecution would stop soon.
You are welcome to print and circulate all articles published on Clearharmony and their content, but please quote the source.