The Divine Land Marching Band led athletes from all over Taiwan into the opening ceremony of the Taiwan National Games in Tainan on the evening of October 20th, 2007. The band's performance won warm applause from the audience.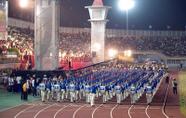 Divine Land Band lead athletes of all counties and cities into the stadium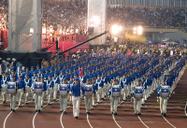 Divine Land Band plays in beautiful formation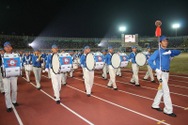 Members of the Divine Land Band march in high spirits, exhibiting the demeanor of Falun Dafa practitioners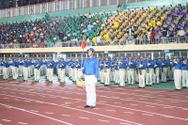 Remaining peaceful and full of energy throughout the opening ceremony
The National Games is the largest and best gathering of athletes in Taiwan. The 2007 National Games was held in Tainan, a historic, cultural city. Close to ten thousand athletes registered for thirty-five competitions--the largest in history. Tens of thousands of spectators besides the athletes, cheering teams and performing groups were attracted to the opening ceremony on October 20th. Reporters of major media were present, and TV stations broadcast it live. President Chen Shui-bian and Premier of the Executive Yuan Chang Chun-hsiung gave speeches at the ceremony. The Divine Land Marching Band, composed of close to three hundred Taiwanese Falun Gong practitioners, led athletes from all counties and cities to the field.
When the band passed the stage, the host said, "Ladies and Gentlemen, leading all athletes is the largest drum and trumpet band in the nation, the Divine Land Marching Band. Let's welcome them with warm applause! The band members are people from all walks of life pursuing Truthfulness-Compassion-Forbearance. They hope their music will bring brightness to the world and great success to the National Games!"
The ceremony lasted one and a half hours, with the band playing several pieces of music. All band members looked peaceful and full of energy, and their formation was very neat. The audience was amazed and gave them thumbs-up from the bottom of their hearts.
You are welcome to print and circulate all articles published on Clearharmony and their content, but please quote the source.