Mid-September is the time to welcome new students at National Chengchi University Taiwan. The faculty and students happily came out to welcome the freshmen from all over Taiwan and international students from many foreign countries. The university also organised a Student Club Festival and Club Night events to introduce student clubs to new students. Among the hundred or so student clubs, the Falun Gong Research Club also participated in the event to promote "Truth-Compassion-Forbearance" on campus.

Introducing Falun Dafa to a new student

A student from Belgium is demonstrating the Falun Dafa meditation exercise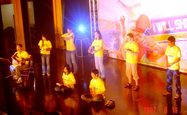 Falun Gong Exercise demonstration and introduction
This year, more international students entered Chengchi University. During the two-day-long club festival, many foreign students came to the Falun Dafa club table, wanting to learn more about Falun Dafa. One student of Chinese Language heard the music composed by Falun Dafa practitioners and came to the table. He said the music made him feel peaceful. A professor doing research in human rights passed the Falun Dafa table with several friends. A practitioner student greeted the professor. He replied with a smile and said, "They (the visiting friends) are from Sichuan Province in China."
On Club Night, every club was given seven minutes to perform on the stage. The Falun Dafa club members invited practitioners from Taiwan Normal University, National University of Technology and Taipei Technology University to join the performance. The performance had an exercise demonstration but also included a short drama, music, and a chorus.
The performances started with the song, "Use Life to Feel It" accompanied by flute and guitar. It resonated with the students' lives. When the host invited a Belgian student to talk about his cultivation experience, the western practitioner talked in fluent Chinese about his experiences and the beauty of Falun Dafa. The audience gave him warm applause. In the end, all practitioners sang together in a chorus to complete the performance.
After the performance, the participating Falun Dafa practitioners agreed that it was predestined that people of different races, ages and gender would gather here to hear about Falun Dafa.
You are welcome to print and circulate all articles published on Clearharmony and their content, but please quote the source.