August 28th, 2007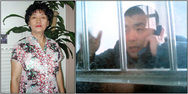 Photo: Jin Xue Zhe, right, is imprisoned in for practising Falun Gong, outlawed in China. Left, his mother, Quan Qing Zi, has immigrated to Korea to fight for his release. / Korea Times
To people who endure oppression, torture or suffer any other inhumane actions, "live according to your conscience," says Quan Qing Zi, who has embarked upon a crusade to free her son from prison in China, where she says he is subjected to torture.
"They have broken both of my son's arms, handcuffed them at a strange angle behind his back, and electrocuted his genitals causing severe injury,'' says Quan.
Quan and her son, Jin Xue Zhe, 35, practise Falun Gong, whose teachings have been described as spiritual, religious, or metaphysical, depending on one's point of view. In any event, it is outlawed in China, where her son was arrested and is being subjected to torture, says Quan.
Prior to her family's misfortune, Quan describes Jin as having been "always kind and helpful to their neighbours." She says he was about to be promoted to a responsible position and was considered a qualified leader in the company where he worked. Of her three sons, she says Jin was the most considerate toward his parents.
Savours Freedom in Korea
Ging Zi immigrated to Korea nearly seven years ago. She has become a naturalised citizen and says she is proud to be a part of a country that permits her to exercise freedom of belief.
"I came to Korea to help my son escape the torture he is suffering," she says. "Here in Korea I am free to practise my belief.
Supporting Ging Zi's cause, as well as others in the same situation, the Coalition to Investigate the Persecution of Falun Gong in China, CIPFG, rallied in front of the Chinese Embassy Friday.
"It is time that human rights violations against Falun Gong practitioners is exposed to the public," says Kyung Suk Lee of the Coalition. "There are reported cases of organs being removed from practitioners and being sold for profit."
[...]
Steps Toward Intervention
A resolution that was passed by a 420-0 vote in the US House of Representatives to condemn the persecution of Falun Gong. The resolution states: "Falun Gong is a peaceful and nonviolent form of personal belief and practise with millions of adherents in the People's Republic of China and elsewhere. Jiang Zemin's regime has created notorious government offices overseeing the persecution of Falun Gong members through organised brainwashing, torture, and murder. The campaign of persecution has been carried out by government officials and police at all levels, and has permeated every segment of society and every level of government in the People's Republic of China."
Quan says neither she nor her son would ever consider superficially renouncing their beliefs to escape from persecution.
"We can't compromise our belief," says Quan. "We practise truthfulness and must remain true to that belief."
What they pursue is to be a good person, but not for personal gain. All the Falun Gong practitioners in China that come forward to tell people the true situation about Falun Gong are in danger of being arrested. They are doing this to restore the reputation of Falun Gong. They do not want people to be deceived by their own government.
Ms. Quan wants the UN, the Korean government, and human rights organisations to help get her son released.
Original report from Korea Times
You are welcome to print and circulate all articles published on Clearharmony and their content, but please quote the source.