MPs give their support
On June 7th, organisations such as the Swedish Service Centre for Quitting the CCP held a rally in Parliament Square in the centre of Stockholm. They called for attention to the present situation of human rights in China and demanded that the Swedish government openly raise the problem of human rights in China when the leader of China comes for a visit. Banners displayed at the rally included: "Supporting Human Rights in China", "Investigation group proves that organs of Falun Gong practitioners were removed", and "Supporting 22 million brave people who quit the CCP" etc.
Svan Bergstrom and Cecila Wigstrom, two MPs, came to support. In their speeches, they highlighted the persecution of Falun Gong practitioners in China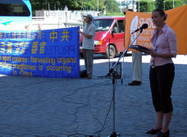 Cecila Wigstrom pointed out that "the atrocity of stealing organs from living people happening in China is deviating from the present civilisation and the system of examination on internet is also restricting people' freedom in their thinking. The CCP's persecution of all civilian groups such as Falun Gong is not only happening in China but also is extending overseas. For example, the Chinese Consulate in Gothenburg is attempting to remove Falun Gong practitioners sitting in front of the Consulate peacefully protesting on the opposite bank of the river." Cecila Wigstrom said, "This Saturday, Gothenburg, an ancient sailing boat will be back to Gothenburg from China, on which the Swedish Government has spent a large sum of money. But it does not dare to do anything about the problem of human rights in China. The Swedish Government should talk to Hu Jintao about it, helping Chinese people break away from the examination on the internet and allowing people to have their own freedom of thought".
At the rally, there was a victim who personally experienced such a persecution. Kong Binjian, a Falun Gong practitioner, told about his experience of having been illegally arrested and taken to force labour camps five times by the CCP because of his refusal of giving up practicing Falun Gong. The fifth time when he was arrested, because he refused to give his name, a policeman threatened him that they would take him to an isolated place. He then took it as a threat and later he realised that that place is the concentration camp where Falun Gong practitioners' organs are being removed. He called on kind people to pay attention to those Falun Gong practitioners who will be murdered and whose organs will be removed for sale in China. International communities have responsibilities to stop the crime.
Kristina, a representative from the Falun Gong Association in Sweden said, "They have already collected over ten thousand signatures from Swedish people calling for the CCP to immediately stop stealing organs from Falun Gong practitioners. These signatures would be submitted to the government at noon, urging them to talk about Falun Gong when Hu Jintao, the leader of China, comes to visit.
You are welcome to print and circulate all articles published on Clearharmony and their content, but please quote the source.