After the Chinese Communist Party's (CCP) crimes of harvesting organs from living Falun Gong practitioners and cremating their bodies were exposed, the Falun Dafa Association and the Minghui/Clearwisdom website established the "Coalition to Investigate the Persecution of Falun Gong" on April 4th, 2006, and began collecting evidence from many sources. The following are some recently obtained leads. We hope that kind-hearted people with inside information will continue to help us expose the truth! We need information about officials in the labour camps, prisons and hospitals in Mainland China who collude with each other to brutally persecute Falun Gong practitioners, so we can together bring an end to this persecution.
Investigation Lead: Fortunate Ageing Saudi Arabia Man, or Systematic Crime by the Chinese Communist Party?
By Cheng Tianliang in Mainland China
"Ageing Saudi Arabia Man Seeks Liver Worldwide; Predestined Relationship Takes Him to Wuhan City" was a June 17th, 2006 article published in the Wuhan Evening News. The official CCP media was blinded by greed and divulged its "live organ bank," and the horrific fact that it is systematically killing people and stealing their organs. The article reads as follows: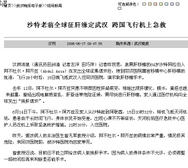 The report in Chinese from Wuhan Evening News website
"Ageing Saudi Arabia Man Seeks Liver Worldwide; Predestined Relationship Takes Him on International Flight to Wuhan City for Emergency Care" (Translated from Wuhan Evening News website article dated June 17th, 2006)
"Hanwang News (correspondent Tian Jianqing, reporters Zuo Yang and Tian Qiaoping) The reporters learnt yesterday that after sending out a worldwide quest [for a donor liver], 64-year-old Saudi Arabian Abdul Aziz who was in urgent need of a liver transplant received approval to get a liver transplant at the Tongji Hospital Organ Transplant Centre. He arrived in Wuhan City in the evening of June 15th after a 28-hour flight and went to Tongji Hospital for liver transplant surgery.
Abdul Aziz suddenly experienced pathological changes of unknown causes in his liver area last December. He subsequently developed liver cirrhosis, ascites and jaundice, which became increasingly worse. For a while, he had electrolyte imbalance and was in hepatic coma, among other dangerous conditions and signs. It was obvious he needed a liver transplant as soon as possible. His family issued a worldwide quest for a liver transplant through a medical facility.
Abdul Aziz and his family rushed from Saudi Arabia to the United Arab Emirates the afternoon of June 14. He arrived at Tianhe Airport in China at 8:32 p.m. on June 15th. His physical condition had deteriorated from the long flight. He showed symptoms of cardiac arrthymia and other conditions. The medical staff at the Tianhe Airport Emergency Medical Centre administered emergency care measures for Abdul Aziz on the plane. He was hospitalised at 9:20 p.m.
According to Dr. Zeng Fanjun, head surgeon for this patient, Abdul Aziz's illness was very serious yesterday and he was in extreme danger. Before he came to Tongji Hospital, doctors at a Saudi Arabia hospital told him to go home and wait for death.
Dr. Zeng also said the patient cannot presently undergo liver transplant surgery because his physical condition does not permit it. The patient must become stabilised for a while before [the doctor] will decide whether it's OK to operate on him."
Is this older Saudi Arabia man fortunate, or is the CCP committing systematic crimes? At least these facts are hidden in this news article:
The Saudi Arabian unexpectedly contracted liver disease in December of 2005. His condition gradually worsened so that he later developed liver cirrhosis, abdominal ascites, jaundice, electrolyte imbalances and hepatic coma, among other dangerous conditions. Only after medical treatments could not help him, and the doctor told him to "go home and prepare for the funeral," the Saudi Arabian decided to look worldwide for a liver through a medical facility.
The news article does not reveal the specific date at which the Saudi Arabian started seeking the liver. If the time starting to seek a liver was January or February of 2006, it would be impossible for the man whose condition had worsened to such an extent mentioned above within only two or three months, and was in such a dangerous life situation, to have lived until June 15th, the day he flew to Wuhan City for a transplant. Therefore, we can only deduce that the Saudi Arabian couldn't possibly apply for a liver earlier than the end of April, but it was perhaps in May or even early June! If one takes the end of April as the longest and correct guess, then it took the Tongji Hospital in Wuhan City only several weeks to one month to find a matching liver for the elderly man!
The Saudi Arabian is fortunate that there is such a large organ pool in China, making it possible he could quickly find a matching liver in predestined Wuhan City while not finding a matching liver anywhere else in the world!
Investigation Lead: Suspicious Organ Source for Transplant at the Tongji Hospital in Wuhan City
People have paid attention to the issue of availability of human organs since the exposure of foul deeds at the Sujiatun Concentration Camp. Recently, I heard that several (or more) organ transplant surgeries are performed at the Tongji Hospital in Wuhan City on a daily basis. Patients come from Japan, Vietnam, Thailand, and other parts of Asia. There are also patients from all over China. A State Security Bureau official's family member received an organ transplant around May 27th, 2006.
The organ donor sources at the Tongji Hospital in Wuhan City are unknown. Some people say the organs come from executed prisoners. But it is impossible to execute prisoners each day, and it's impossible to have so many death-row prisoners. We have not seen any public announcement regarding executions lately on the street's bulletin board.
More, we heard that a commercial company founded an organisation in various parts of China or abroad, which plays the role of middleman between patients and hospitals or head surgeons in a business operation style. This organisation reaps tremendous profits and refers lots of patients to hospitals.
Investigation Lead: Hospital Employee Reveals that Some Liver Donors at the Changzheng Hospital in Shanghai Come from Provinces in Western China
A medical staff member at the Changzheng Hospital in Shanghai revealed that liver and kidney transplant surgeries were performed with high frequency in April and May of 2006. One or two kidney transplants were performed each day, and a liver transplant is performed at least once a week. Before the May 1st holiday, a maximum of four liver transplants were completed within a single day. We have to ask: where do so many livers and kidneys come from? Why is the hospital hastening to do organ transplants after the harvesting of organs from living Falun Gong practitioners at the Sujiatun Concentration Camp was revealed in March of 2006?
The medical staff member also revealed that some donor livers at the Changzheng Hospital come from western provinces such as Sichuan Province and Shaanxi Province. Hospital staff members are usually sent to pick up the organ in one of these provinces. They would call the hospital as soon as they get on the plane back to Shanghai, and the hospital would start preparing for surgery. Sometimes the employee that brought back a kidney would also bring back a liver.
We hope that all people of conscience will pay attention to this horrifying persecution in Mainland China. We hope more people with relevant information will provide more leads so we can together end this persecution!
Investigation Lead: Liver Tissue Match and Transplant Completed Within a Few Days at the Xiangfan City Central Hospital
The story about doctors at the Xiangfan City Central Hospital performing a liver transplant surgery for a patient was published on page six of the June 16th Xiangfan Evening News. The report said Liao Xiaofeng, head of General Surgery Section at the Xiangfan City Central Hospital, found a matching liver within only a few days, but the report did not mention the source of the liver.
Liao Xiaofeng, Wang Jianguo, deputy head of the General Surgery Section and others performed the transplant surgery. According to the report, the liver matching and transplant surgery took only a few days. It had previously taken six months, one year, three years, or even five years to receive an organ transplant. How is it that such a transplant can be done so quickly?
Xiangfan City Central Hospital (Xiangfan Hospital Affiliated With Tongji Medical College of Huazhong University of Science & Technology)
Address: No 39 Jingzhou Street, Xiangfan City, Hubei Province, Zip code: 441000
Emergency Room: 86-710-3576965
Hospital Head Office: 86-710-3576970
CCP Secretary's Office: 86-710-3576300
Clinic: 86-710-3576759
You are welcome to print and circulate all articles published on Clearharmony and their content, but please quote the source.