The 93rd National Cherry Blossom Parade began on the morning of April 9, 2005 and proceeded along Constitution Avenue in Washington DC. More than a hundred Falun Gong practitioners from Washington DC, New York, New Jersey and Philadelphia took part in this parade for the seventh time to display Chinese traditional culture.
| | |
| --- | --- |
| | |
| Falun Dafa banner | Performing the Falun Gong exercises on a float |
After experiencing several days of cloudy weather, the capital of the USA was bathed in bright sunshine, and the sky was clean and clear. The spirit of Springtime permeated everywhere. Cherry blossoms attracted streams of visitors. The sponsor of the Cherry Blossom Festival Culture Activity estimated that about one million visitors from around the world came to appreciate the Cherry blossoms. Most eye-catching was the Cherry Blossom Festival Parade, which attracted several hundred thousand viewers. In addition to the audience on the spot, the Washington DC ABC TV Station's live broadcast enabled many residents in Washington DC and nearby Maryland and Virginia to enjoy the grand spectacle.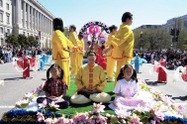 Performing the exercises on the float
Falun Gong practitioners' contingent was 99th in the procession. Three female practitioners in Chinese traditional cheong-sam walked in front, each holding a board bearing the Chinese characters "Zhen-Shan-Ren" (Truthfulness-Compassion-Forbearance). Behind them was the huge banner reading "Falun Dafa." Eight "celestial maidens" danced gracefully with long coloured ribbons on both sides of the float. On the float, practitioners demonstrated the gentle Falun Gong exercises. Behind the float was a troupe of waist-drummers.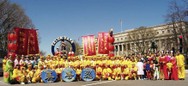 A group photo of all participating practitioners
The practitioners' contingent not only introduced Falun Gong to the audience, but also introduced Chinese traditional culture to the mainstream community in the US. The audience expressed their appreciation with rounds of applause and cheers. Some western audience members shouted to the Falun Gong practitioners on the float, "Falun Gong," "Falun Dafa." Some spectators followed the practitioners to do the exercises. Many Chinese spectators smiled at Falun Gong practitioners. It was indeed an Honor to be able to display Chinese traditional culture in this parade as well as this spiritual practise which has become popular in over 60 countries throughout the world.
You are welcome to print and circulate all articles published on Clearharmony and their content, but please quote the source.