When Mr. Flaminia, a senior reporter from an Italian national TV station in New York, saw Falun Gong practitioners' anti-torture exhibition on the streets of Manhattan and witnessed practitioners sincerely telling of the brutal persecution encountered by Falun Gong in China, he phoned his TV station headquarters and reported what he saw.
As a reporter, Mr. Flaminia was deeply moved by the Falun Gong practitioners' courage and willpower to uphold the truth. He decided to produce a documentary on Falun Gong and human rights, which will record the worldwide spread of Falun Dafa and include stories about the beauty that Falun Dafa has brought to people throughout the world. In doing so, the reporter wanted to help the Italian people to awaken their conscience and sense of justice and to help stop the persecution in China as soon as possible. Mr. Flaminia wanted to go to China to shoot this special documentary, regardless of the Chinese Communist regime's opposition and any pressures related to international economic interests. He made every effort to request permission from his company. However, at present, Falun Gong is still a sensitive topic in China. His friends told him that it might be too risky and suggested that he go to Taiwan instead, where Falun Gong is warmly received and is spreading rapidly. Therefore, Mr. Flaminia began his journey to shoot the documentary in Taiwan.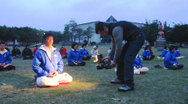 Falun Gong practitioners' group morning exercises in Hualian
Falun Dafa, also known as Falun Gong, was publicly introduced in China by Mr. Li Hongzhi in May 1992. During the seven years from May 1992 to July 1999, according to an internal investigation by the Chinese Public Security Bureau, about 70 to 100 million people in Mainland China practised Falun Gong. On November 24, 1998, a Shanghai TV station reported that Falun Gong was spreading widely in Europe, America, Australia and Asia. It reported on how Falun Gong was warmly received in Shanghai and abroad, and said that 100 million people around the world practised Falun Gong. At present, Falun Dafa has been spread to more than 60 countries throughout the world and has more than 100 million practitioners. Falun Dafa has received more than 1,000 proclamations from different governments and organisations throughout the world.
Because a Taiwanese practitioner, Mr. Cheng, suffered from serious illnesses, he and his wife went to the Mainland to look for a renowned medical doctor. Their friends recommended the practise of Falun Gong to them, so they attended two lecture series given by Mr. Li Hongzhi in China. Mr. Cheng's health gradually improved, until he fully recovered. In 1995, the couple formally introduced Falun Gong to the Taiwanese people. Mr. Cheng's miraculous recovery was spread by word of mouth and many people started learning and practising Falun Gong. Currently, there are more than 1,000 practise sites and about 500,000 people practising Falun Gong in Taiwan.
Qigong has been very popular in Taiwan, because of its health benefits. In public parks in the morning, the slow, smooth and gentle Falun Gong exercises and its sitting meditation form a striking contrast to the generally noisy environment of the parks and other people's intense exercises. The rapid growth of Falun Gong in Taiwan began after April 25, 1999, when more than 10,000 practitioners in China went to the Appeals Office near the central government's Zhongnanhai Compound, to appeal on behalf of Falun Gong when it was unjustly slandered and practitioners were being harassed. The incident drew great attention from the worldwide media. TV stations and newspapers in Taiwan also reported on the incident. As a result, the number of practitioners in Taiwan suddenly increased manifold.
In New York, the Italian reporter learned about the bloodshed and violence carried out by the Chinese Communist Party and Jiang Zemin's regime in suppressing Falun Gong. He also learned about the lawsuits around the world against Jiang. He has also paid great attention to the rescue of orphans in China, whose parents were tortured to death because of their practise of Falun Gong. He called on more kind-hearted people to help rescue these children.
| | |
| --- | --- |
| | |
| A mother and her infant during morning group practice at Chiang Kai-Shek Memorial Hall Plaza on March 19, 2005 | Mainland practitioner Ms. Wang Lixuan and her 8-month old son Meng Hao, who both died from the persecution |
Since the Jiang faction's persecution of Falun Gong began on July 20, 1999, the regime has utilised the country's media to demonize Falun Gong practitioners in order to justify their crimes against Falun Gong. The media covered up the persecution, and constantly fabricated lies such as the Tiananmen Square self-immolation incident to instigate people's hatred toward Falun Gong.
In Taiwan, learning and practising Falun Gong is encouraged and welcomed. Unfortunately, on the Mainland, the same activity often leads to illegal persecution, imprisonment and even torture and death. Falun Gong practitioners from Hualian expressed, "Falun Dafa is a profound cultivation practise of the Buddha School. It benefits people both physically and spiritually. We hope that more people with predestined relationships will join the practise and experience the happiness of cultivation. We also call upon the Chinese Communist regime on the other side of the Strait to stop the unlawful suppression of Falun Gong as soon as possible."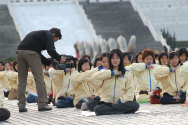 On the morning of March 19, 2005, nearly 700 Falun Gong practitioners practice the exercises on the Chiang Kai-Shek Memorial Hall Plaza.
On the morning of March 19, 2005, nearly 700 Falun Gong practitioners from Taipei came to the Chiang Kai-Shek Memorial Hall Plaza to practise the Falun Gong exercises. Their movements were uniform and there was no noise at all. Mr. Flaminia was very surprised and kept saying that the practitioners were so coordinated.
The reporter said he understood that Falun Gong is a kind of gentle exercise based on the universal principles of Truthfulness-Compassion-Forbearance, which benefits people both physically and spiritually. Furthermore, the practise is very helpful for social stability, as it improves peoples' morality. On the streets in New York, he saw practitioners exposing the persecution. In Taiwan, he witnessed the wide spread of Falun Gong, and the peace and goodness experienced by those who practise Falun Gong. It is precisely because Falun Gong is so wonderful that we need to work even harder to seek
You are welcome to print and circulate all articles published on Clearharmony and their content, but please quote the source.