"This ruling is the correct classification for the hate propaganda that Chinese officials have spread around the world about Falun Gong, as an extension of -- and a veil to divert attention away from -- the genocide that is going on in China right now." -- Plaintiff, Mr. Joel Chipkar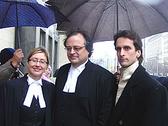 Toronto businessman Mr. Joel Chipkar, with his legal council Mr. Peter Downard and Ms. Nicole Samson after the court found the Chinese Deputy Consul General guilty of libel.
The Ontario Superior Court of Justice has awarded Falun Gong practitioner Mr. Joel Chipkar damages for libel against a Chinese consular official who stated that the practitioner was a member of a "sinister cult."
Yesterday, Justice Harvey Spiegel awarded Chipkar $1,000 (CAD) in damages and $10,000 for legal costs against Mr. Pan Xinchun, the Deputy Consul General of the People's Republic of China.
Justice Spiegel granted the judgment in the absence of the defendant, who failed to defend the action. The court also heard submission from Chipkar's lawyer, Mr. Peter Downard, that Pan had evaded services of the claim.
Chipkar requested the award of only $1,000 because he wished to make clear that his concern was one of principle and was not about money.
Speaking with reporters after the ruling, Chipkar said, "I am very happy with this decision. For the past four years Chinese officials have called Falun Gong practitioners members of an evil cult as part of the "massive propaganda campaign" reported by Amnesty International... a campaign used to hide their crimes against humanity."
Chipkar continued, "Today, Canadian courts have recognized that calling Falun Gong practitioners 'evil cult' members is illegal. I believe this ruling is the correct classification for the hate propaganda that Chinese officials have spread around the world about Falun Gong as an extension of -- and a veil to divert attention away from -- the genocide that is going on in China right now."
On April 25th, 2003, shortly after the SARS-related death toll in Toronto reached 16, The Toronto Star published a feature letter from Chipkar, a local businessman, expressing his concern over the SARS cover-up that lead to the spread of SARS in Toronto.
On May 1st, 2003, a rebuttal letter by Pan appeared in the same newspaper denying responsibility for the cover-up of SARS and using the situation to accuse Chipkar and other Falun Gong practitioners of having a "hidden purpose" and "ulterior motives." He also labelled Chipkar and Falun Gong practitioners as being members of a "sinister cult."
Downard said that although Pan was a consular official, Pan acted outside of his consular functions in making these public statements. The court agreed, says Downard. "In addition," he added, "[Mr. Pan's] actions were contrary to international law and could not in any event claim any consular immunity in light of that."
Downard further commented, "This ruling sends a clear message that the promotion of China's persecution of Falun Gong in Canada will be condemned by the Canadian courts. I am hopeful [this case] will draw the attention to the community at large to the wrongful promotion of hatred in this country."
Mr. Downard is a litigation partner and lead libel lawyer of Fasken Martineau, a large Canadian law firm.
Media Contacts: Peter Downard. (416) 865-4369, Joel Chipkar (416) 709-8678
NEWS – Feb. 04, 2004
European Falun Gong Information Centre, www.clearharmony.net
---
Background
Falun Gong, also known as Falun Dafa (about), is a practise of meditation and exercises with teachings based on the universal principle of "Truthfulness-Compassion-Tolerance." It is a practise that was taught in private for thousands of years before being made public in 1992 by Mr. Li Hongzhi. Falun Gong has roots in traditional Chinese culture, but it is distinct and separate from other practises such as the religions of Buddhism and Taoism. Since its introduction in 1992, it quickly spread by word of mouth throughout China, and is now practised in over 50 countries.
With government estimates of as many as 100 million practising Falun Gong, China's President Jiang Zemin outlawed the peaceful practise in July 1999 (report), fearful of anything touching the hearts and minds of more citizens than the Communist Party. Unable to crush the spirit of millions who had experienced improved health and positive life changes from Falun Gong, Jiang's regime has intensified its propaganda campaign to turn public opinion against the practise while quietly imprisoning, torturing and even murdering those who practise it.
The European Falun Gong Information Centre has verified details of 869 deaths (reports / sources) since the persecution of Falun Gong in China began in 1999. Government officials inside China, however, report that the actual death toll is well over 1,600, while expert sources estimate that figure to be much higher. Hundreds of thousands have been detained, with more than 100,000 being sentenced to forced labour camps, typically without trial.

FOR MORE INFORMATION, PLEASE CONTACT THE EUROPEAN FALUN GONG INFORMATION CENTRE
Peter Jauhal 44 (0) 7739 172 452. Nicolas Schols 32 (0) 479875734
More contacts. http://www.falungonginfo.net/europe.htm
Email: europe@falungonginfo.net
You are welcome to print and circulate all articles published on Clearharmony and their content, but please quote the source.