The City of Gosford invited the Divine Land Marching Band to its annual Christmas parade on November 18th, 2009. This is the second time the city invited the Band to the parade.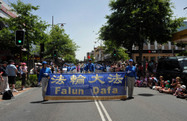 Falun Dafa's Divine Land Marching Band
The Divine Land Marching Band's performance in last year's parade left the residents of Gosford a great impression. Director of the Band Mr. Gao said that they are very happy to bring the beauty of Falun Dafa to the people of Gosford. In recent years many Chinese businessmen have settled in Gosford and many Chinese students have come here for school. Mr. Gao believes the Falun Dafa practitioners should let them understand that the practice is welcome in over 100 countries in the world.
It was a pleasant summer day in Godford. People listened and enjoyed the songs the Band played- "Falun Dafa is Good", "Fa Rectifies the Universe", "Deliver the Treasure" and "Falun Holy King".
Gosford is located in the east coast of New South Wales north of Sydney. It's famous for its scenic views of mountains, lakes and rivers.
You are welcome to print and circulate all articles published on Clearharmony and their content, but please quote the source.