10,000 people, Taiwanese Government leaders Rally in Support of Lawsuit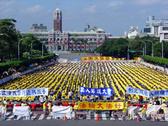 10,000 rally in Taiwan to support lawsuits against former Chinese leader for crimes of genocide, torture.
TAIPEI (FDI) -- Seven Taiwanese Falun Gong practitioners have filed a lawsuit with Taiwan's High Court charging former Chinese head-of-state Jiang Zemin with the crime of genocide.
Top Chinese Communist Party leaders Li Lanqing, and Luo Gan, were also named in the case, which was filed Monday, November 17th. Two days before, 10,000 Falun Gong practitioners, Government leaders and various supportive organisations held a large rally in front of the President's Office in support of the lawsuit.
"This is the first criminal case by Taiwanese people against Chinese officials and the first case in which members of the Chinese community have brought charges against Jiang Zemin," said a statement by the Taiwanese Falun Gong practitioners, seven of whom are plaintiffs in the suit.
Taiwan Genocide Law Invoked for the First Time
The lawsuit is the first in Taiwan to cite the Taiwanese law for the prevention and punishment of the crime of genocide. That law, which was adopted in 1953, is a domestic version of the 1948 United Nations Convention on the Prevention and Punishment of the Crime of Genocide.
"The Jiang regime's persecution of Falun Gong followers on the mainland meets the provisions of genocide stipulated in the 1948 United Nations Convention on the Prevention and Punishment of the Crime of Genocide," says the practitioners' statement.
According to the U.N. convention, genocide is defined as "acts committed with intent to destroy, in whole or in part, a national, ethnical, racial or religious group," such as killing its members or inflicting harm on the group with the intent to destroy it. (website)
"According to international customs," says attorney Ms. Chu Wan-chi, "a major crime that breaks international criminal laws, such as genocide, fits the principle of universal jurisdiction -- that is, anyone can file a suit against this kind of crime in any country."
Leading Human Rights Attorneys File Wave of Lawsuits around the World
Lawsuits against sitting and former Chinese officials and/or institutions with strong ties to the Chinese regime have been filed in over twelve countries, including suits for accounts of torture, crimes against humanity, and genocide. (news)
Former Party Chairman Jiang Zemin, who initiated and drove the campaign against Falun Gong since 1999, has also been sued in the United States, Australia, Belgium, and Spain. (news) Former Vice-Premier Li Lanqing, known to be heavily involved in directing the persecution of Falun Gong, was also sued in France last December. (news) Luo Gan, the head of the notorious "6-10 Office," set a record for the most law suits served to a visiting Chinese officials when he collected four in Iceland, Finland, Moldova, and Armenia this past September. (news)
A number of renowned human rights attorneys around the world have taken Falun Gong-related cases, including former Pinochet prosecutors Mr. William Bourdon and Mr. Georges-Henri Beauthier. Mr. Beauthier is also known for bringing the first successful case under Belgium's human rights law against two individuals for their roles in the Rwandan genocide of 1994.
The Executive Director of the World Organization Against Torture USA, Mr. Morton Sklar, Iceland's foremost human rights lawyer, Mr. Ragnar Adalsteinsson and Australia's Geoffrey Robertson -- a world leader in the field of human and civil rights, and Chief Justice of the UN War Crimes Commission -- have all worked on filing Genocide-related cases on behalf of Falun Gong practitioners.
Plaintiffs Aim to End Persecution
Among the seven plaintiffs in the Taiwanese case is Mr. Lin Hsia-kai, who was detained in Shanghai for 20 days last month upon his visit to the Mainland. Another plaintiff, Ms. Chan Pei-chun said that she was also detained and abused when she visited relatives in China during last year's Chinese New Year.
"If we do not speak up in a free country like Taiwan, then the practitioners in China would have no chance to let their voices be heard," Chan said.
While Chan and Lin have been released, four wives of Taiwanese Falun Gong practitioners are still detained in China. Other Taiwanese practitioners reported being illegally detained, beaten, and violently interrogated when travelling to the Mainland to visit relatives or do business.
Dozens of others have also been blacklisted by the Chinese government, which then provided the list to Hong Kong officials and a number of foreign governments to be used in identifying and restricting travel of Falun Gong practitioners around the world. In 2002, for example, Falun Gong practitioners who were on the blacklist found themselves stranded in airports in North America and across Europe when attempting to board planes for Iceland where Jiang Zemin would be visiting the following day. Iceland's main carrier, IcelandAir, had been instructed by Iceland authorities to use the blacklist to deter Falun Gong practitioners from traveling to Iceland where they could undertake a peaceful demonstration while Jiang was in the country. (news)
The actions taken by Iceland authorities under pressure from the visiting Chinese leader were denounced by U.S. and European officials.
"The Chinese have an old saying," says the Taiwan Falun Dafa Association's spokesperson, Chang Ching-his, "Good will be rewarded with good, evil will meet with evil," all in due time. Now that human rights have become widely valued, he continued, laws should play an active role in punishing the evil, protecting the good and safeguarding justice in the world.
The Taiwanese Falun Gong practitioners stated that bringing these criminals to justice would play an important role in stopping the persecution.
Falun Gong Popular in Taiwan
Over the past four years, while it is being persecuted in Mainland China, Falun Gong has becoming increasingly popular across the Taiwan Strait, where it is practiced freely by over 300,000 people. Taiwan's President, Vice-President and the Mayor of its capital city, Taipei, have all issued congratulatory statements to Falun Gong during large-scale events in recent years, praising the practice for its health and moral benefits. (news)
On Saturday, November 15, an estimated 10,000 Falun Gong practitioners and supporters held a press conference and rally in support of the cases to bring Jiang Zemin to justice worldwide.
At the conference site, practitioners displayed a cloth bearing the signatures of about 100,000 people to support the lawsuit activity.
Among the speakers were representatives of both dominant Taiwanese parties, with Legislative Committee Member Lin Cho-Shui of the Democratic Progressive Party and Legislative Committee Member Sun Guo-Hua of the National Party.
Taiwan Legislative Leader Liao Ben-Yan, Chairman of Taiwan Human Rights Association Wei Qian-Feng, and Director of China Human Rights Association Wu Huilin also attended.
# # #
Background
Falun Gong, also known as Falun Dafa, is a practice of meditation and exercises with teachings based on the universal principle of Truthfulness-Compassion-Tolerance. It is a practice that was taught in private for thousands of years before being made public in 1992 by Mr. Li Hongzhi. Falun Gong has roots in traditional Chinese culture, but it is distinct and separate from other practices such as the religions of Buddhism and Taoism. Since its introduction in 1992, it quickly spread by word of mouth throughout China, and is now practiced in over 50 countries.
With government estimates of as many as 100 million practicing Falun Gong, Chinas then-Communist leader, Jiang Zemin, outlawed the peaceful practice in July 1999, fearful of anything touching the hearts and minds of more citizens than the Communist Party. Unable to crush the spirit of millions who had experienced improved health and positive life changes from Falun Gong, Jiangs regime has intensified its propaganda campaign to turn public opinion against the practice while quietly imprisoning, torturing and even murdering those who practice it. To that end, Jiang established the 6-10 Office, a Gestapo-like agency spanning from the Central Government to the local governments. The United States Congress has described the 6-10 Office as an agency charged with overseeing the persecution of Falun Gong members through organised brainwashing, torture, and murder.
The Falun Dafa Information Center has verified details of 822 deaths since the persecution of Falun Gong in China began in 1999. In October 2001, however, Government officials inside China reported that the actual death toll was well over 1,600. Expert sources now estimate that figure to be much higher. Hundreds of thousands have been detained, with more than 100,000 being sentenced to forced labour camps, typically without trial.
FOR MORE INFORMATION, PLEASE CONTACT THE EUROPEAN FALUN GONG INFORMATION CENTRE–
Gail Rachlin 917-501-4441, Levi Browde 914-720-0963, Erping Zhang 646-533-6147, or Christina Chai 917-386-5068.
Email: contact@faluninfo.net
You are welcome to print and circulate all articles published on Clearharmony and their content, but please quote the source.