On the evening of July 20th, 2012, Falun Gong practitioners had a candlelight vigil in front of Chinese Embassy to commemorate those fellow practitioners tortured to death by the Chinese Communist Party (CCP). They called for stopping the persecution, disintegrating CCP, and bringing the perpetrators, including Jiang Zemin, Luo Gan, Liu Jing, and Zhou Yongkang, to justice.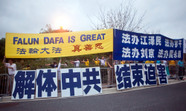 Falun Gong practitioners protest the CCP's persecution in front of Chinese Embassy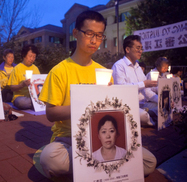 Falun Gong practitioners hold a candlelight vigil in front of Chinese Embassy
Ms. Wang came to the US a few months ago after enduring many hardships. She had been imprisoned for three and a half years for practising Falun Gong in China. She said that several of her fellow practitioners were tortured to death. One of the photos that the practitioners held in the candlelight vigil was of her good friend from the same information site. She said, "This persecution should have ended earlier. This righteous and great Falun Dafa is being persecuted. It is unprecedented injustice."
Eric started practising Falun Gong after the persecution had begun. He said that the changes in China indicated that the CCP would collapse, and that the persecution was difficult to maintain. The end of the persecution is not far off. He hopes that the CCP officials in the embassy will quit the CCP and its affiliated organisations, and not participate in the persecution.
The embassy gate was locked and no rooms with lights were visible from outside.
On July 20th, 1999, former CCP head Jiang initiated the brutal persecution of Falun Gong, which led to the imprisonment and persecution of hundreds of thousands of Falun Gong practitioners. As of July this year, the documented death cases of Falun Gong practitioners due to police violence are more than 3500. It is the biggest human rights violation in China.
You are welcome to print and circulate all articles published on Clearharmony and their content, but please quote the source.