A day before the Mid-Summer Festival, on June 22, 2012, everyone was rushing home for the holiday. In front of the busy Helsinki Central Railway Station, Falun Gong practitioners were collecting signatures and calling for an end to the persecution of Falun Gong in China. A police car drove by and the officer advised the practitioners to be careful of the hot weather and to drink more water to prevent heatstroke.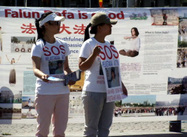 Two sisters, Jin Zhaoyu and Jin Zhaohuan, are seeking to rescue their mother
Falun Gong practitioners demonstrate the exercises

Passersby read about the persecution

The largest newspaper in northern Finland, Lapin Kansa, reported on the Jin sisters and their efforts to rescue their mother, who is imprisoned in China for practising Falun Gong

Passersby wait in line to sign the petition to show their support for Falun Gong
Ms. Jin Zhaoyu and Ms. Jin Zhaohuan were in front of the station raising awareness of the persecution of their mother. Their mother, Ms. Chen Zhenping, was sentenced to eight years in prison because she refused to give up her belief in Falun Gong. Ms. Chen is in Xinxiang City Woman's Prison in Henan Province, China. The sisters wore their SOS T-shirts to draw the attention of passersby, many of whom condemned the Chinese Communist Party (CCP) and could not understand why it treats its people so cruelly. Many people signed the petition to rescue the sisters' mother.
It's been two and a half years since Ms. Chen was imprisoned. The authorities have not allowed her to have any visitors, so her daughters do not know what has happened to her in prison. They called for people to pay attention to their mother's situation. A local newspaper came to interview them.
A reporter from the largest newspaper in northern Finland, Lapin Kansa, interviewed Ms. Jin Zhaohuan, who told the reporter that her family was persecuted in China just because they practiced Falun Gong. They were followed around the clock and their phone was tapped. She did not have any privacy. After she came to Finland, she started to feel like a real human being and what it was like to be free. Because of the persecution, their mother was frequently arrested and their house was often searched. The experience left a dark spot in her memory. Growing up in China, she was always scared and felt helpless. She often locked herself in her room and cried. She would bite her tongue to deal with the tension. Her tongue is now full of scars and missing pieces. She was terribly traumatized as a result of the persecution.
Many people came from far away just to sign the petition to support them. Two passersby offered to donate money, but the practitioners declined to accept it. Many requested Falun Gong DVDs to learn more about the practice and the persecution.
CCP organizations that have participated in the persecution of Ms. Chen Zhenping:
Henan Province Woman's Prison
Huagong Road, Xinxiang City, Henan Province
Wang Xizhong and Hou Meili, wardens
The 9th ward where Ms. Chen is incarcerated: +86-373-5092690
Other wards: +86-373-5092626, +86-373-5092627, +86-373-5092628, +86-373-5092629
General line to the prison: +86-373-5092576
Cheng (first name unknown), Domestic Security Division head: +86-373-66356510
Li Xinjian, State Security Section head: +86-13598831511
Tao Wenyao, deputy head: +86-13838007918
610 Office of Henan Province: +86-373-65902233, +86-373-65904038
Mi Tao, agent of the 610 Office: +86-373-63526074, +86-13137109268
Zuo Bowei, Inspection Section head: +86-1365386855
You are welcome to print and circulate all articles published on Clearharmony and their content, but please quote the source.